Dear Bitruers,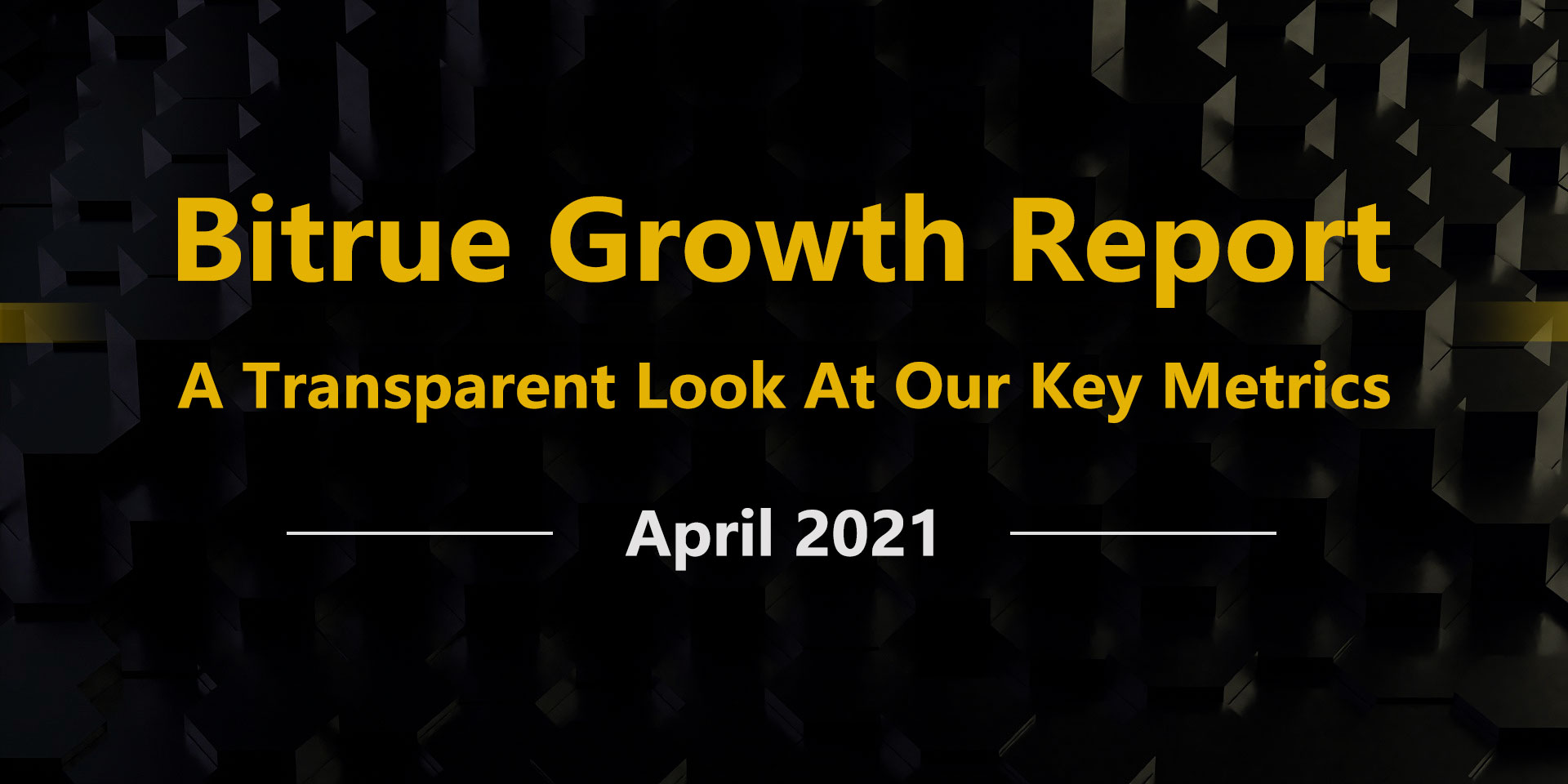 It's been close to a year since we last gave everybody a rundown of how our company is doing. To put things simply we have been growing fast and are extremely optimistic with how the future looks! Overall we have experienced growth in all of our key metrics, which includes user growth, trading volume, assets managed, and key partnerships.
Let's take a look at a more detailed breakdown of where Bitrue stands right now.
- Daily trading volume has increased 400%
The main feature of Bitrue right now is of course our cryptocurrency exchange, where users can trade over 120 different coins. As our core business this trading volume is one of the most important indicators that defines our growth. It's the purest representation of activity on Bitrue, and the primary reason for the elevated trading volumes is XRP.
It's no secret that XRP was removed from numerous exchanges at the beginning of 2021, however Bitrue wanted to remain steadfast in our support for the coin and community that helped put us on the map. This decision has paid dividends with the XRP community growing massively amid the recent price surge, and new users are moving towards Bitrue in droves fuelled by both organic searches as well as recommendations from existing XRP traders.

- 4.2 million registered users
The number of users on Bitrue is also vitally important. With the value of crypto assets ballooning across the board, a simple increase in daily trading volumes may merely indicate that our existing users are just getting richer. With more than 1 million new users registered in the last 6 months we are confident that we are reaching a very wide base of new customers who have diverse financial backgrounds and very different levels of expertise in cryptocurrencies.
- Monthly active traders increased by 130%
Mostly fuelled by price action in the first months of 2021, lots of users who were either intentionally holding long-term or who had previously given up on their portfolio are seeing gigantic gains and are eagerly taking profits or filling up with bigger bags. Some coins like ADA are up by 70x compared to last year after all. Widespread consciousness of crypto has come back in a big way, and it's clear to all that it's now too big for any individual, company, or government to ignore.
- 2 billion dollars in managed assets
This number is the total value of assets belonging to users of our exchange, and includes funds that are idle in accounts as well as pledged in loans, invested in Power Piggy, etcetera. It shows that people are placing a lot of trust in Bitrue to keep their funds safe and provide reliable financial management services.
We of course take the handling of these funds very seriously. If you would like to know more about the various security measures we have in place to make sure these funds are always safe and are only accessible to their rightful owners, please check this article at your convenience.
- $220,000,000 distributed in loans
Loans have outperformed our expectations, primarily due to the recent bull market conditions which have led to users becoming very reluctant to sell their coins. Safe in their beliefs that their coins will soon be appreciating in value, they are choosing to hold them long term while unlocking their liquidity potential via loans.
Since the beginning of 2021 the value of coins that have been pledged within Bitrue loans has more than doubled, with the average amount that individual users are pledging increasing by 15%. We expect growth to continue at such rates for as long as market conditions remain similarly strong.
- BTR price has increased by 700%
At the time of writing, our platform token BTR has a trading value of $0.39 USDT. It has grown by 8x in just the last 2 months! It's good, but we're not satisfied. It's no secret that we're aiming to be the biggest financial services platform in the world one day but it's a mighty huge mountain to climb.
While it's not an official metric that can be tracked we generally view the price of BTR as a rough measure of our community's "faith" in Bitrue. The increase in price gives us confidence that we're on the right track and shows that the community believes in our efforts.
We have several initiatives in the works that will add more utility value to BTR in the coming weeks and months, the most important of which is that it will be far more strongly tied to your ability to invest in and maximize the earning potential of Power Piggy. You can find more information about this in our previous article.
We recognize that among all these figures that we're sharing today, the only one that many will care about is the value of BTR. Please rest assured that we are doing everything we can to drive it as high as it can go - everyone at Bitrue is also a holder and we stand to benefit from an increase just as much as anyone else. Our team here is working very hard on more tightly integrating BTR to our platform services, so that the successes of the Bitrue platform will be quickly and directly reflected in the value of our coin.
- 179,592,903 BTR Burned
Another way to support the BTR price is through burns. Burning BTR means that the coins can never be used by anyone again in the future. Once every quarter we will calculate the net profit made by Bitrue during that time period, and then we will spend 20% of it buying BTR back from our users via the Bitrue exchange. These coins that we purchase are those that are then burned (Note that we've also done some one-off special burns of much higher amounts too).
The fewer coins that exist, the more valuable the ones that remain become. These quarterly burns are set to continue until a total of 200,000,000 BTR has been burned.
- 90% Community Growth in 1 Year
At this time last year we had approximately 55,000 followers on our official Twitter account @BitrueOfficial. Recently we managed to pass the huge milestone of 100,000, and we're still growing fast!
Our Twitter account is where we share all of the latest updates related to Bitrue. New coin listings, service announcements, feature upgrades, it all gets shared here before anywhere else. Our community is our lifeblood and we feel it's vitally important to keep everyone informed and up to speed with what we're doing every day. We pay close attention to all the replies that we receive on our tweets and they are used to inform our future development and improvements plans
- Team members
Since last summer Bitrue has increased the size of our workforce by roughly 80%. The biggest expansion has been in our Customer Support department where we added many new employees to deal with the influx of customer support requests. The kind of growth that we're experiencing has some unique challenges associated with it, and dealing with customer support is one of the biggest. We are continuing to build up our support team week by week and currently have a goal of responding to all customer enquiries within 1 hour, regardless of the day of the week or time of day. We hope that we'll be able to reach this target within the next few months, and are achieving it by hiring remote teams in various timezones.
In addition we're also adding many new members to our technical teams to improve the stability of our platform and also work on upcoming features.
- Features launched
In the past 6 months we have published over 120 new articles on our helpdesk, covering the gamut of announcements - DeFi and Power Piggy investment opportunities, new coin listings, giveaway events, contests, token swap information, burns, company plans and more. Maintaining a brisk update schedule keeps our users engaged and provides new opportunities every day for us to reach users in different communities or users who care about different features.
- New partnerships every week
One of the truly great things about this industry is how cooperative and interconnected it is. Behind the scenes there are tons of meetings and partnerships happening between companies all the time, and everyone has the same attitude - we all believe that any company's success elevates the industry as a whole and will serve as fuel for our own growth.
We have established a variety of new partnerships within the last year, such as with Flare Networks. It was a natural fit for us to work so closely with them given our mutual relationship with Ripple and XRP. We are also one of only two exchanges to already have FLR (IOU) listed and available to trade for the majority of our users.
Other notable partnerships include joining with LINK to utilize their oracle services, working with GALA to bring direct fiat purchases to our users, and working with the Symbol XYM team to help facilitate their token swap and promote XYM through trading contests and related marketing.
In addition we worked directly with tons of companies to handle all manner of swaps, events, listings and more within the last few months. There are far too many for us to list, but we want to give a quick thanks to these teams for working with us: Permission ASK; PAC Protocol PAC; PancakeSwap CAKE; Team Pundi X PUNDIX/NPXS; Tron TRX; Quant Network QNT; & Klever KLV to name just a few.