Dear Bitruers,
Our platform token BTR is now available on Binance Smart Chain, and is trading on PancakeSwap. We know that the world of DeFi can be quite intimidating and confusing, so we have prepared this handy tutorial to show you how everything works.
In this guide we will cover:
- How to set up a MetaMask wallet
- How to purchase BTR (BSC) on PancakeSwap
- How to obtain BTR-BUSD LP tokens
- How to use these LP tokens to farm for CAKE
1. Setting up a MetaMask wallet
MetaMask is a convenient cryptocurrency wallet that can be used directly in your browser, or as a dedicated app on your smartphone. Most importantly, your MetaMask wallet can easily be linked with your PancakeSwap and FinNexus accounts.
Setting up your wallet couldn't be easier, just go to https://metamask.io/ and click on "Download". For the purposes of this tutorial we will be using the browser extension version of the wallet on Google Chrome, so we will select "Chrome" and then "Install MetaMask for Chrome".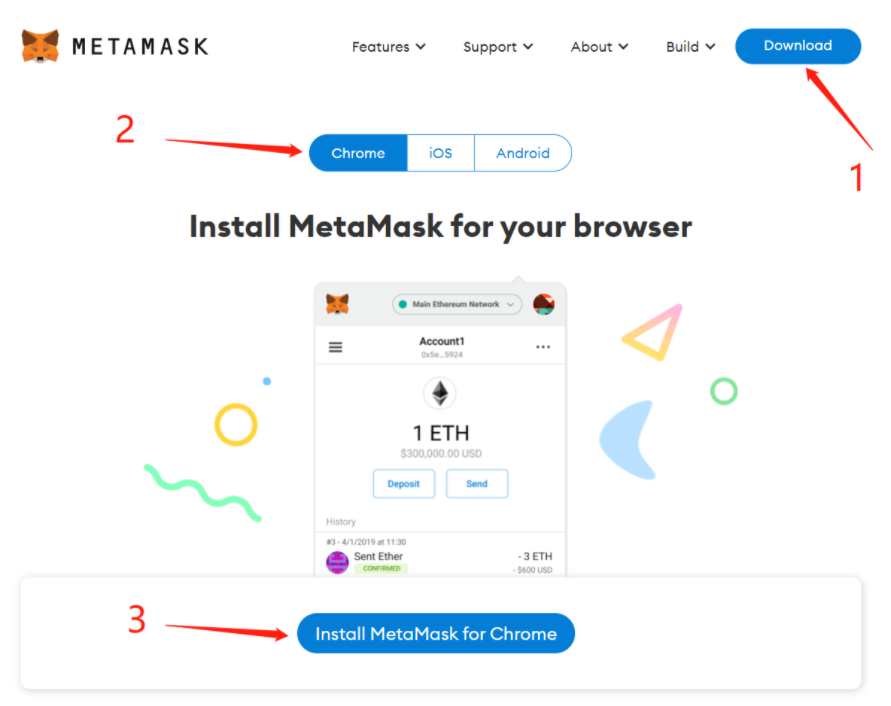 On the subsequent page select "Add to Chrome" followed by "Add extension".
When it has been downloaded a new tab will open automatically - just follow the onscreen instructions to finish setting up your wallet. Remember that it is VERY important to record your mnemonic phrase accurately, you do not want to risk losing your future millions.
2. Purchasing BTR on PancakeSwap
Now that your wallet has been set up, you need to connect it to PancakeSwap. Head to their website and then select "Connect" in the top right corner https://pancakeswap.finance/.

Select MetaMask from the menu that appears, and then a MetaMask popup will appear, asking you to select and authorize the wallet that you want to connect. You will then need to fund your wallet with BUSD from an outside source.
You can now purchase the BSC form of BTR. Click on "Trade" - "Exchange", and then "Select a Currency".
You can then do a search for BUSD and BTR, and enter in the values of the exchange that you wish to make.
3. Obtaining BTR-BUSD LP Tokens
You may already be aware that PancakeSwap is a decentralized autonomous market maker - which means that it's not controlled by any one entity, and it also allows any two coins to be swapped for any other two coins. This is only possible due to Liquidity Providers - users who place their coins on the dex so that they are available for other users to trade with. There are some key advantages to being a Liquidity Provider. First of all, based on the proportion of coins that you have provided, you will receive a percentage of the trading fees that are generated from that particular pool. In addition you will also receive a Liquidity Provider token which can be used in other contexts, such as DeFi mining.
In this guide we'll talk about how you can obtain a BTR-BUSD LP token.
On PancakeSwap choose "Trade" - "Liquidity", or choose the "Liquidity" tab in the center. From here you will be able to add both BTR and BUSD to the liquidity pool, as long as both of these coins are in your connected wallet.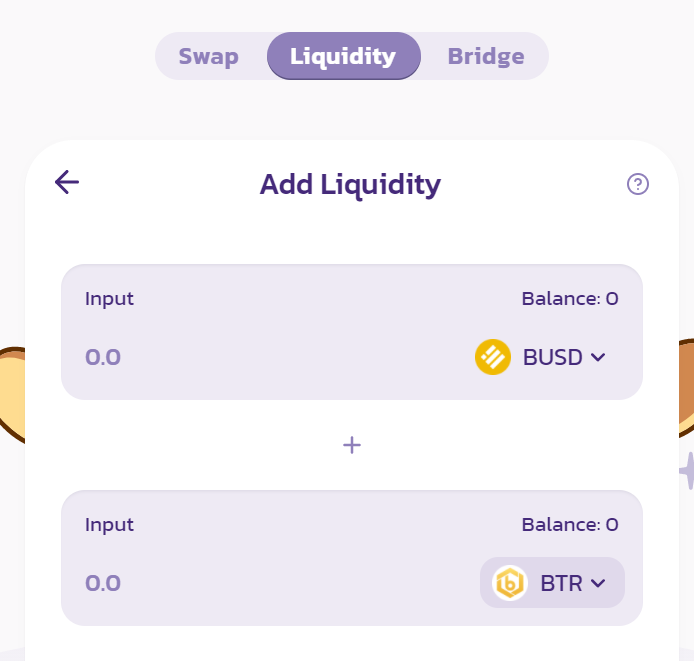 It's as simple as that! Once you've added the tokens to the pool the BTR-BUSD LP token will be automatically present in your account. It can be used to retrieve your BTR & BUSD from the pool, or alternatively, you can use it to farm CAKE in PancakeSwap's farms.
4. Farming CAKE With Your BTR-BUSD LP Token
As an incentive for maintaining your liquidity, your LP token can currently be staked to earn CAKE courtesy of PancakeSwap. It's REALLY simple to do and also offers a fantastic return on investment. Start out by heading to the PancakeSwap Farms.
Look for the BTR-BUSD and click on details.

You can then click on "Enable" and authorize the metamask popup that appears. When that's completed you're done, you are now passively earning CAKE as a reward for contributing to the DeFi ecosystem.
5. Farming BTR with your CAKE
So now you have CAKE in your portfolio, so what's the best thing to do with it? Earn more BTR, of course! This is possible through the syrup pools also provided by PancakeSwap. First head to the Syrup Pools page and scroll down until you find the BTR pool.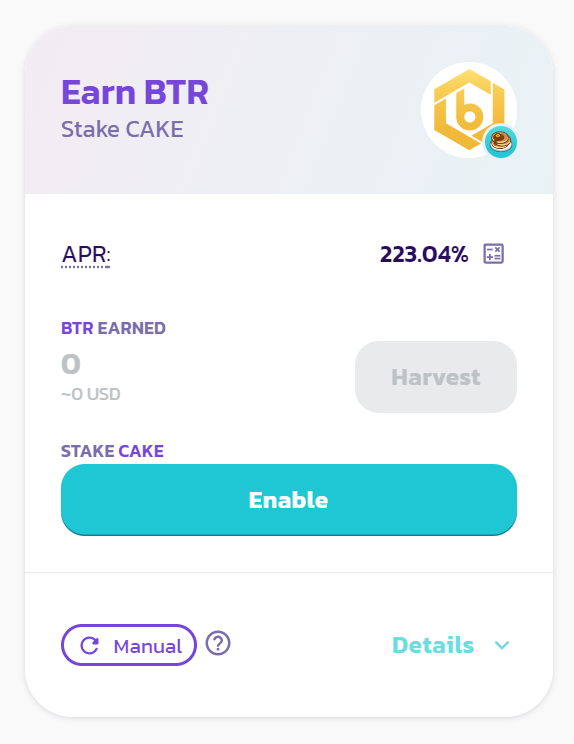 Just click on "Enable" and once again authorize the activity in Metamask. Your CAKE will then be earning you BTR passively.
Why not use that BTR to go farm more CAKE?