Dear Bitruers,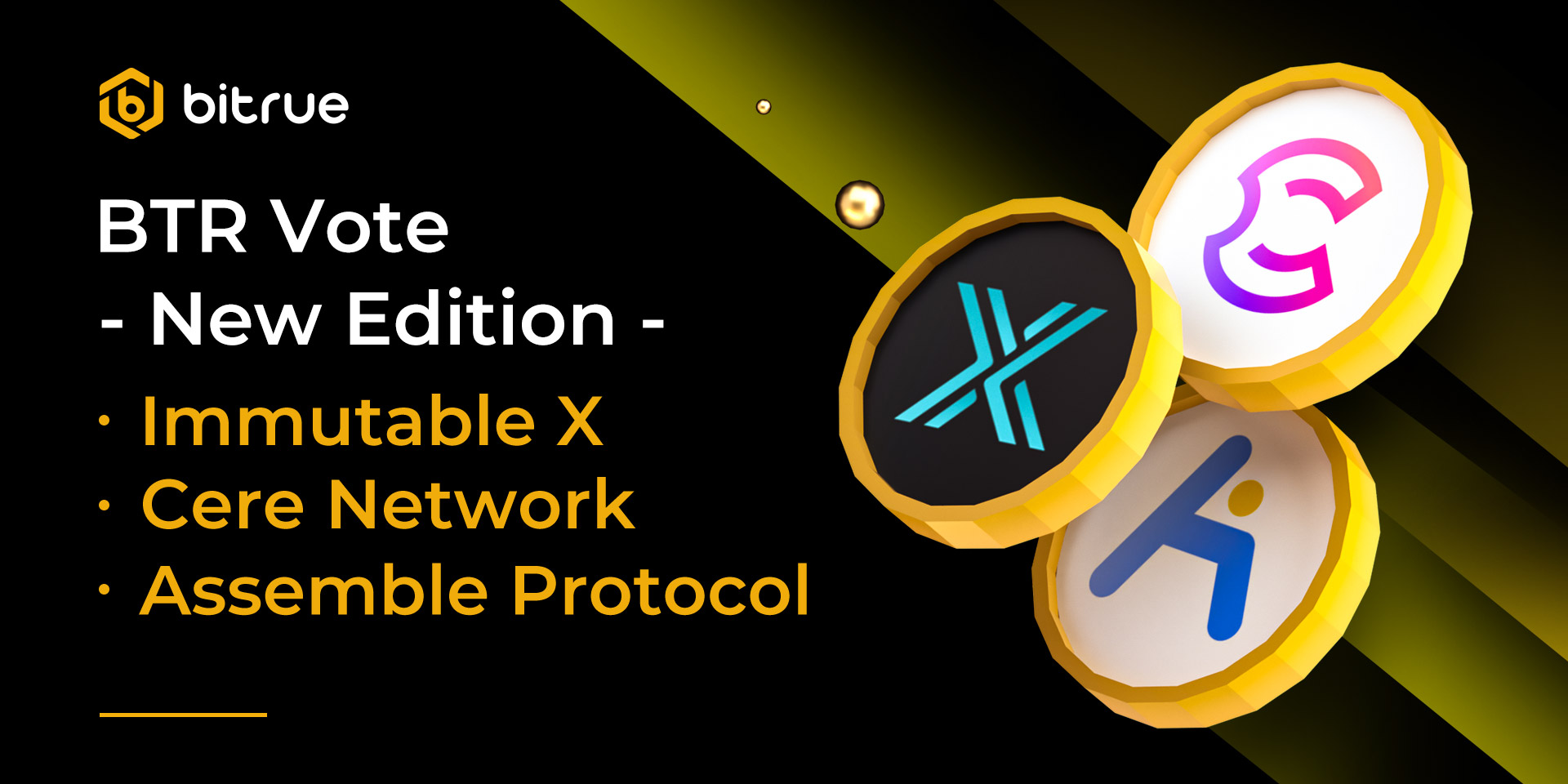 Starting today, Nov 17 at 11:00 UTC, we will have a new round of BTR Voting going live, where you can bring more projects to Bitrue using your BTR holdings! These days we're not the ones who decide which coins come to the Bitrue exchange - you are!
If you want to support any of these three tokens and see them trading on Bitrue, you will need to stake your BTR to make it a reality. In total a project will need a cumulative total of 1,000,000 BTR staked in support from the entire community within 24 hours.
The three projects that you can support are, in no particular order:
Immutable X (IMX) : Immutable X is the first layer-2 scaling solution for NFTs on Ethereum, with instant trade confirmation, massive scalability (up to 9,000+ trades per second), zero gas fees — without compromising user custody. The protocol is built on top of StarkWare's proving technology, which allows users to retain access to Ethereum's ecosystem and network effects.
Cere Network(CERE) : Cere Network is part of the consortium of projects from Polkadot and Cosmos, united by the vision of cross-chain interoperability (cross communications) between blockchain networks and serve the purpose of a trustless, and scalable global decentralized ecosystem for all businesses and consumers. Cere Network is a Customer Relation Management blockchain ecosystem in a Decentralized Data Cloud (DDC) optimized for service data integration and data collaborations, built on the scalable and heterogeneous platform of Polkadot.
Assemble Protocol (ASM) : ASSEMBLE Protocol claims to be a blockchain-based global point integration platform. It is claimed that the basic idea behind the ASSEMBLE Protocol is to provide its users an unrestricted opportunity to use their points, similarly as they use cash, anywhere in the world without any time or place constraints. And to enable point providers and ASSEMBLE partners a pool of opportunities to further expand their businesses and an access to a rich pool of users.
Unlike before, there will be no staking rewards for participating in this vote, your support will be purely for the love of these projects. Deposits for these three coins are available now, and the projects who win the BTR vote will start trading with USDT pairs very soon. Withdrawals will be enabled approximately 24 hours after trading begins or if the project fails the BTR vote.
BTR Voting is available in the Bitrue app, available to download on both Android and iOS, or use the newly launched web version. Just tap on the BTR Vote icon on the homepage, then select the coin that you wish to support. If you want to maximize your rewards and support new projects as much as possible, you can purchase BTR on the Bitrue exchange.