Dear Bitruers,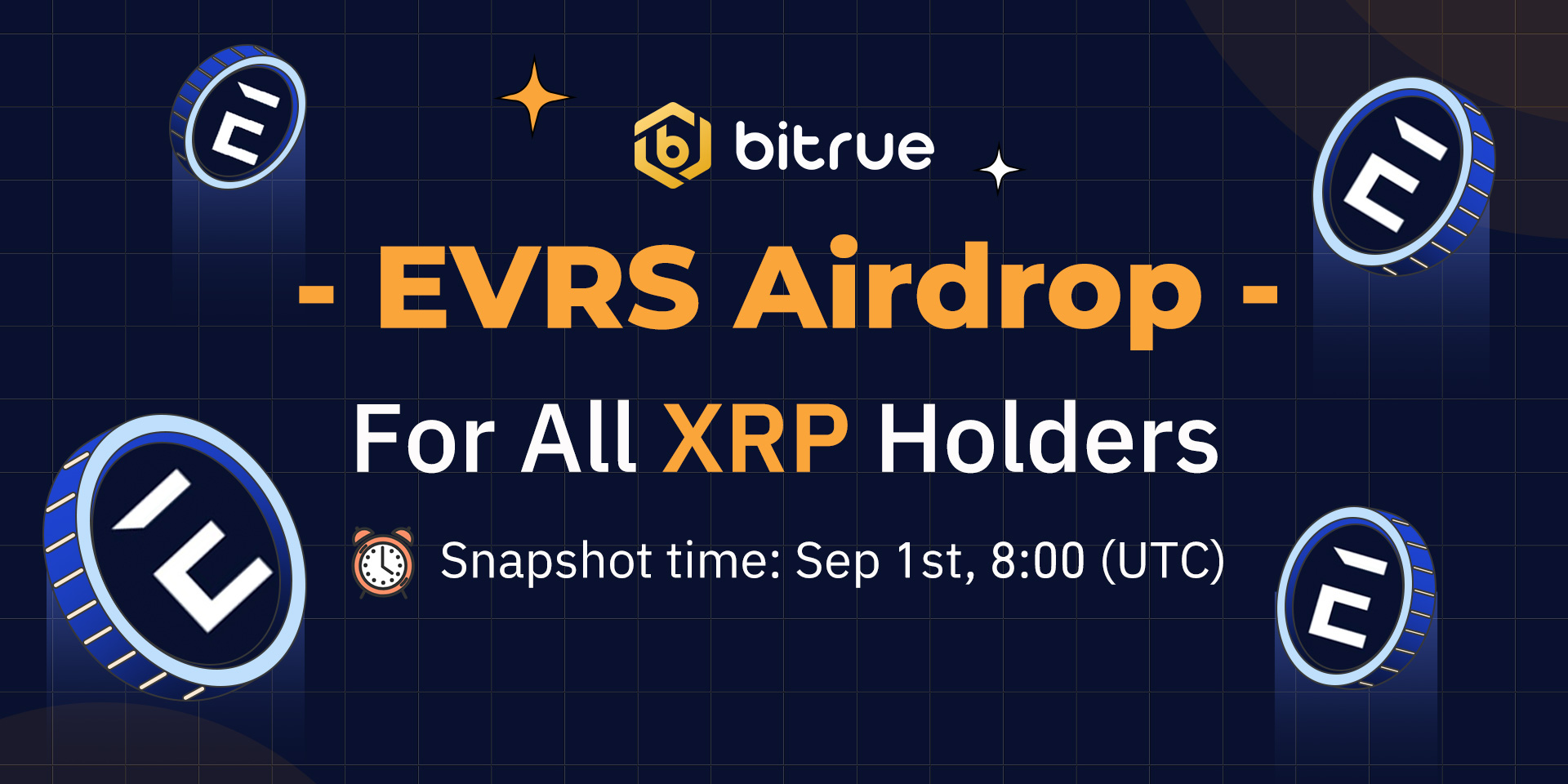 Exciting news is on the horizon! We are delighted to share that Bitrue customers will have the remarkable opportunity to participate in an upcoming airdrop of Evernode (EVRS) tokens. This initiative underscores our commitment to providing you with unique benefits and opportunities within the cryptocurrency landscape. Please refer to the official airdrop announcement from the EVRS team for more information about the rationale behind this airdrop.
Snapshot Details:
Mark your calendars for September 1, 2023, at 6:00 pm AEST (September 1, 2023, at 8:00 am UTC), as a pivotal moment in this airdrop journey. A snapshot of XRP holdings will be taken at this precise time.
Qualification Criteria:
The airdrop has been meticulously designed to favor our community's smaller holders. In the spirit of fairness, the count of qualifying XRP must exclude any XRP holdings exceeding 50,000, whether by an individual customer or on their behalf. This approach guarantees equitable distribution, ensuring that all qualifying customers benefit proportionately. To maximize your rewards, be sure to add XRP to your Bitrue account before the snapshot time. XRP is available for trading on Bitrue.
Distribution Process:
The Evernode team will credit Bitrue with the essential EVRS tokens stemming from the airdrop. We are privileged to be entrusted with the task of distributing these tokens to our esteemed customers who qualify. Rest assured, your privacy matters to us deeply – we won't request or access any customer data. Please keep an eye on our Official Twitter Account for future updates.
NOTE:
Users must hold the equivalent of 10 USDT in XRP to qualify for the airdrop.
Any XRP in Earn products, including Power Piggy, BTR Lockups, or Staking investments, will be eligible to receive this airdrop.
XRP pledged as collateral for a Bitrue loan will not be eligible for this airdrop.
XRP in open orders, or in the process of being withdrawn, will not be eligible for this airdrop.
Distributions of EVRS below 1 EVRS will not be distributed.
If your account is frozen for any reason during the snapshot time, including due to actions like changing your PIN code or email address, you will not be eligible for this airdrop.
The snapshot process may take up to 1 hour to complete. Any funds that are sold, moved, or interacted with in any way during this time may not be counted correctly. We advise users not to touch their coins during this time.
Bitrue reserves the final right of interpretation for all of these rules, as well as the right to add or modify rules at any time.
Introduction of Evernode (EVRS)
Evernode is a project focused on enhancing the XRP Ledger by introducing advanced smart contract capabilities. Through the creation of a layer-2 network, Evernode enables the development of complex smart contracts within the XRPL ecosystem. Evernode will be built on the Xahau Ledger, which serves as a sidechain to XRPL, and it offers innovative features such as "burn2mint". The project's native cryptocurrency, Evers (EVRS), plays a crucial role within its ecosystem and is distributed through an airdrop to XRP holders who store tokens on the ledger. Evernode also promotes Non-Fungible Tokens (NFTs) and decentralized apps (dApps), while incentivizing efficient node operations. Supported by funding and grants, Evernode extends the XRP Ledger's potential beyond payments to encompass programmable agreements and diverse applications.