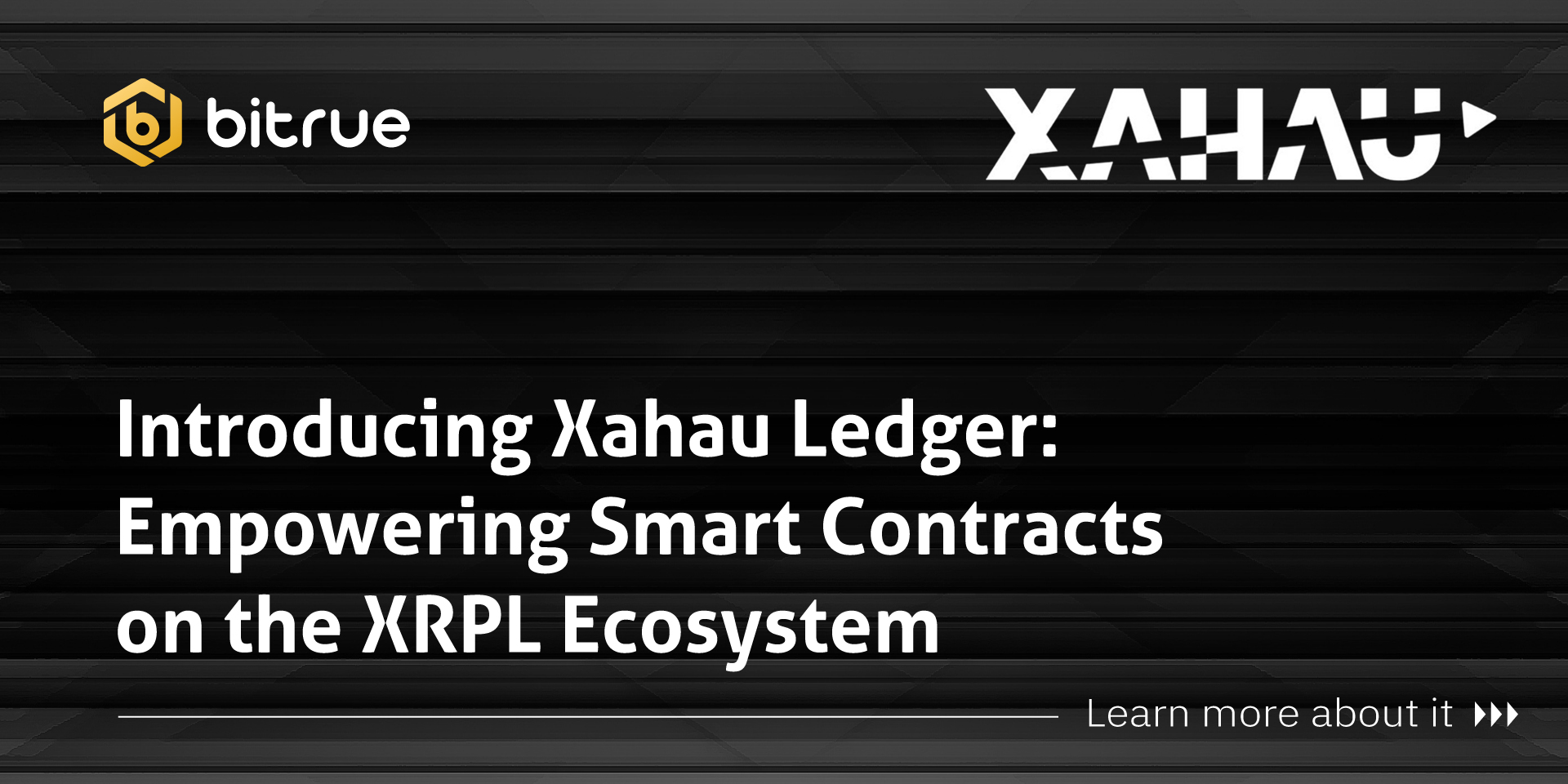 Dear Bitruers,
Today, we are excited to share a new article about Xahau Ledger (XAH). Be sure to follow Bitrue's Official Twitter and Telegram to stay updated!
In the dynamic world of blockchain technology, a groundbreaking innovation has emerged – the Xahau Ledger (XAH). Designed as a smart contract sidechain for the XRPL ecosystem, Xahau integrates the best features of XRPL while introducing the revolutionary concept of smart contracts to the XRPL.
The Core Features of Xahau Ledger (XAH)
The Xahau Ledger (XAH) is designed for retail adoption through seamless integration (composability) and introduces new features while aligning with the existing protocol. It caters to the ecosystem's diverse needs with a collaborative approach, sharing all developments for the benefit of the community. This user-friendly and cooperative design ensures a versatile and innovative blockchain experience.
At its core, Xahau preserves the fundamental elements that have propelled the XRPL to prominence, including the XRP Ledger Consensus Protocol, the decentralized exchange (DEX), and an efficient fee system. However, Xahau goes beyond mere replication by introducing "Hooks," a pioneering addition that empowers the XRPL with smart contracts.
Hooks: A Gateway to Smart Contracts
Hooks are the pivotal innovation that sets Xahau apart. These streamlined pieces of code reside within Xahau accounts, serving as the building blocks of smart contracts. Hooks validate transactions against predetermined rules, thereby ensuring secure, efficient, and automated execution. This breakthrough opens a world of possibilities, from decentralized applications (dApps) to automated transaction workflows.
The Unparalleled Benefits of Xahau and Hooks
The Xahau Ledger (XAH) introduces an array of promising features, one of the highlighted features which is quite exciting is enhancing the security of user funds. These functionalities encompass elements such as transaction time locks, social circle account recovery, and on-chain, self-custodial direct debit capabilities. Collectively, these advancements elevate user protection and control within the Xahau Ledger (XAH) ecosystem.
The integration of Hooks into Xahau's framework brings forth a host of advantages:
Simplicity and Speed: Hooks deliver lightweight and swift smart contract execution, maintaining the system's transaction settlement velocity.
Native Integration: Hooks seamlessly integrate with the ledger, enabling direct interaction with on-ledger objects, balances, and transactions.
Affordability and Scalability: Xahau's low transaction fees and scalability make it an ideal platform for applications requiring swift and cost-effective smart contract processing.
Robust Security: Hooks inherit the robust security foundation of XRPL, ensuring a trustworthy environment for developers and users.
Ecosystem Harmony: Hooks are designed for compatibility with existing XRPL tools and services, facilitating seamless integration with decentralized exchanges and payment channels.
Decentralized Autonomy: Hooks empower Xahau accounts to autonomously initiate transactions based on preset logic, reducing reliance on external authorization.
Xahau's Native Token
Tokenomics play a pivotal role in Xahau's success. Xahau is secured by its native token, Xahau token (XAH). This token powers the ecosystem and is carefully designed to reward validators and support the execution of smart contracts.
With the introduction of the smart contract within the Xahau Ledger (XAH), the execution of smart contracts is expected to demand significant computing resources, including processing power. To address this, the network leverages its native asset, XAH, as the equivalent of "network gas." When a user activates a smart contract, they employ XAH to ensure the flawless execution of the contract by supplying the necessary resources.
Governance Empowered by the Genesis Hook Game
Xahau introduces an innovative governance mechanism through the Genesis Hook Governance Game. This structure oversees the distribution of Xahau's native token, rewarding active participants and safeguarding the network's vitality.
A Community-Driven Path to Innovation
Driven by the Xahau Launch Alliance, a collective of dedicated XRPL community entities, Xahau's development has been a testament to community commitment. This fully functional and decentralized launch marks a monumental achievement, with independently owned validators representing diverse aspects of the XRPL ecosystem.
In essence, the Xahau Ledger (XAH) redefines the XRPL landscape, integrating the XRPL's reliability with the transformative potential of smart contracts enabled by Hooks. It signals a future where transactions are smarter, faster, and more intuitive.
Official Website & Social Media
Website: https://xahau.network/
Twitter: https://twitter.com/XRPLLabs
Docs: https://twitter.com/XahauNetwork
Dive into the World of Xahau (XAH) and unlock its potential with Bitrue, click here to register for exclusive insights and opportunities. Do not miss out on the next big thing in crypto. Get started now!
Learn more about Xahau Ledger (XAH):