Dear Bitruers,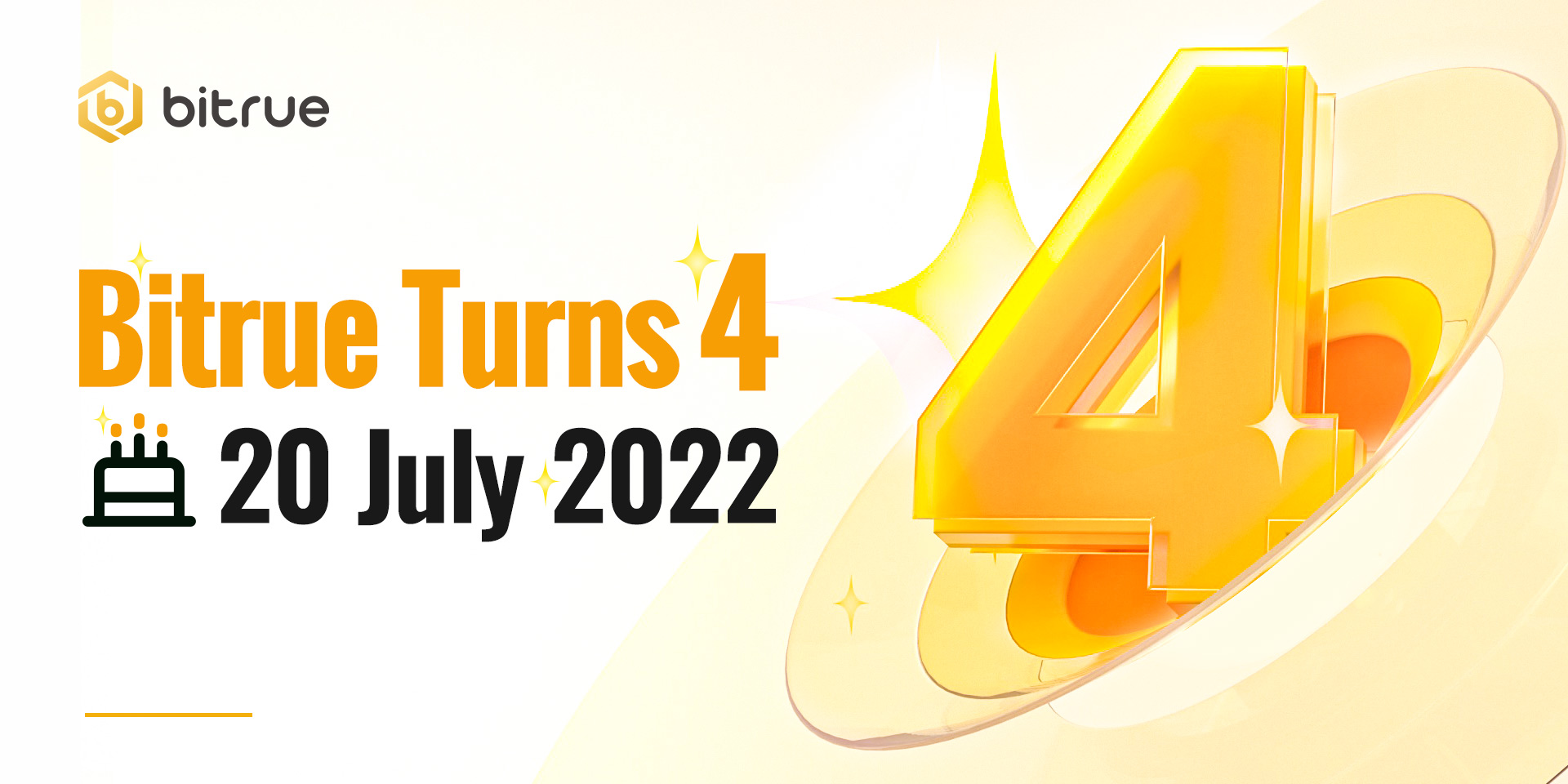 Bitrue has just turned 4 years old! Who knew that back when we started out in 2018 that we would be growing so fast all over the world with company operations and our userbase exploding on all continents!
To celebrate our 4th birthday we've held a few events already, which you can still take part in by investing in our special birthday
Yield Farms
. We also want to take a moment to let everybody know about some of the internal metrics that we're most proud of, to give everyone an insight into the health of our company and provide some transparency during a period where a lot of people are understandable quite worried about their finances.
Bitrue now has over
9 million registered accounts
on the platform, and is currently receiving more signups per day on average than at any other point in our history. Even through the bearish markets we're finding that a lot of new users are getting into crypto for the first time, eager to find ways to break out of the traditional financial environments that continue to offer worse deals to their customers. We're also seeing more and more experienced crypto investors joining our platform - users who instantly deposit a wide range of assets, or who are able to start trading via our API instantly. We owe this increase to the expanded range of features that we offer (have you tried
Futures trading
yet?) as well as our growing influence and presence within the industry.
On that note, we're excited about the range of projects that we're investing in as our Bitrue Ventures sub-project gains steam. Our investment team has recently tripled in size while we continue to find the best uses of our
$50,000,000 of investment funds
. Earlier this week we announced that we had completed funding into
Land of Conquest
, a highly promising MMOSLG web3 game, alongside other majot investment firms including Huobi Ventures, Mirana Ventures, and NGC Ventures.
We also now support more than 700 tradable assets between altcoins and leveraged assets, leading to over $5 billion trading volume between spot and futures combined. Our Twitter presence is growing as well with us blowing past the 500,000 followers mark less than a month ago.
For some more quickfire facts and figures, check out this handy dandy infographic provided below: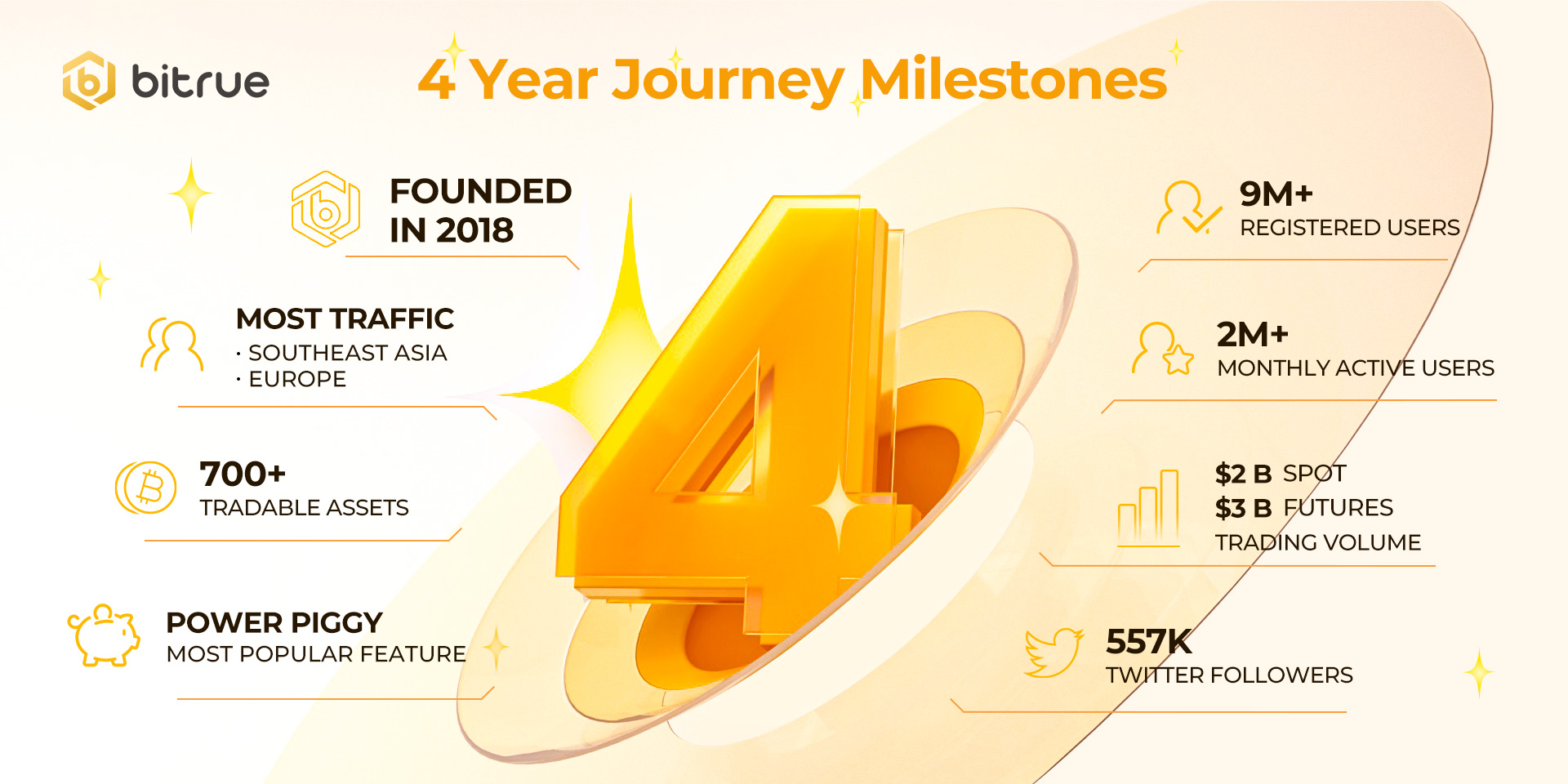 Many of you will be asking yourselves about what's still to come. We have just completed our first
buyback of BMAX
, using a portion of funds generated from our asset management services, which has led to an increase of 30% for BMAX's price. BMAX, if you're unaware, is our deflationary token which rewards users for long term holding and enables us to provide Yield Farming pools that can provide APYs up to 50% higher than our regular pools. These buybacks will be continuing on a roughly monthly basis in the future as a way to continue rewarding holders, and will be a perfect accompaniment to the future BMAX airdrops that will be going out to holders of BTR at the snapshot time.
Speaking of BTR, we're taking steps to reduce further supply emissions. We've reduced the APR of BTR in
Power Piggy
down to 2%. We feel that after 4 years of operations, and 3 years of BTR being on the market, we've given people plenty of opportunities to get in early on the ground floor of BTR and accumulate into their own portfolios. Future developments with regards to BTR will be more focused around rewarding those who are already supporting us, rather than explicitly trying to attract a larger community. We're really proud of all the #MassivePassive use cases around this coin which provide numerous ways for people to earn extra income on their coins, such as exclusive Yield Farming opportunities, entry into
BTR Votes
, boosted interest rates in Power Piggy, and a whole lot more!
Finally, we have a series of fun events running on our
Twitter account
to test your knowledge of Bitrue and win some prizes. Make sure you head on over there and take part!