Want to learn how to become a Bitrue Futures Partner and earn up to $3,000 USDT in rewards? Just follow this handy guide to learn the basics.
Introduction
If you have an account and once you've signed up, click on the Futures Partners link in the top bar to get started.

Rewards can then start being earned in four easy steps.
Step 1: Get your exclusive referral link from this page
Step 2: Invite friends to join, and ensure they deposit at least 500 USDT to Bitrue and transfer at least 100 USDT to their Futures account
Step 3: Ensure your invited friend has a 7 day cumulative transaction volume in Futures of at least 1,000 USDT
Step 4: After completing these tasks, both you and your friends will receive rewards
The more friends you invite, the more rewards you will get!
- Bitrue users can invite friends through email and link sharing
- Up to 20 invitation emails can be sent in a single day
- A maximum of 3 invitation emails can be sent to the same user per day

- In addition to emails, you can also invite friends through referral links and QR codes.
- You can share the invitation image through Facebook, Twitter, Telegram and other social media to invite friends
- You can also save the invitation image to your phone album and share it with your friends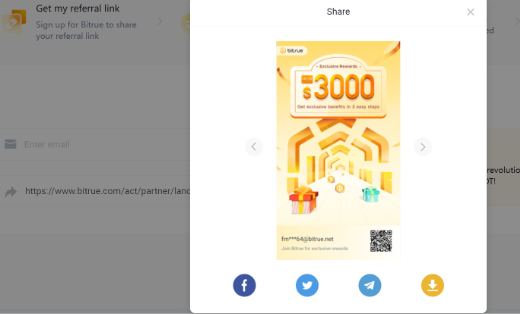 NOTE: You can send reminders to your invited friends via Bitrue to encourage them to complete their tasks. The more friends who complete their tasks, the more rewards you will get.

Completing Tasks
After the invitee registers, they can enter the Rewards Center to view their tasks. The tasks are only valid for 7 days. The more the inviteee transacts in Futures, the greater the potential reward for both the invitee and the inviter. Please note that invitees must also complete KYC verification to be considered a valid invitation.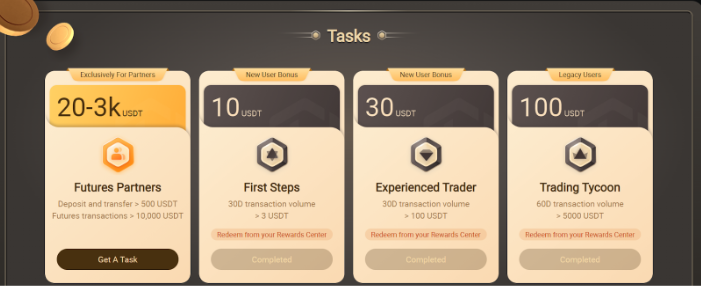 Redeeming Rewards
Rewards that you can claim will show up in your Rewards Center.

When you redeem them the funds can then be used for trading in Bitrue Futures. These trial funds will be deducted first in the event that you suffer any losses. The status of all your invites can be seen on your invitation records page.

We hope this helps you learn more about how to maximize the rewards you can receive. Start inviting people now and enjoy the benefits!