Dear Bitruers,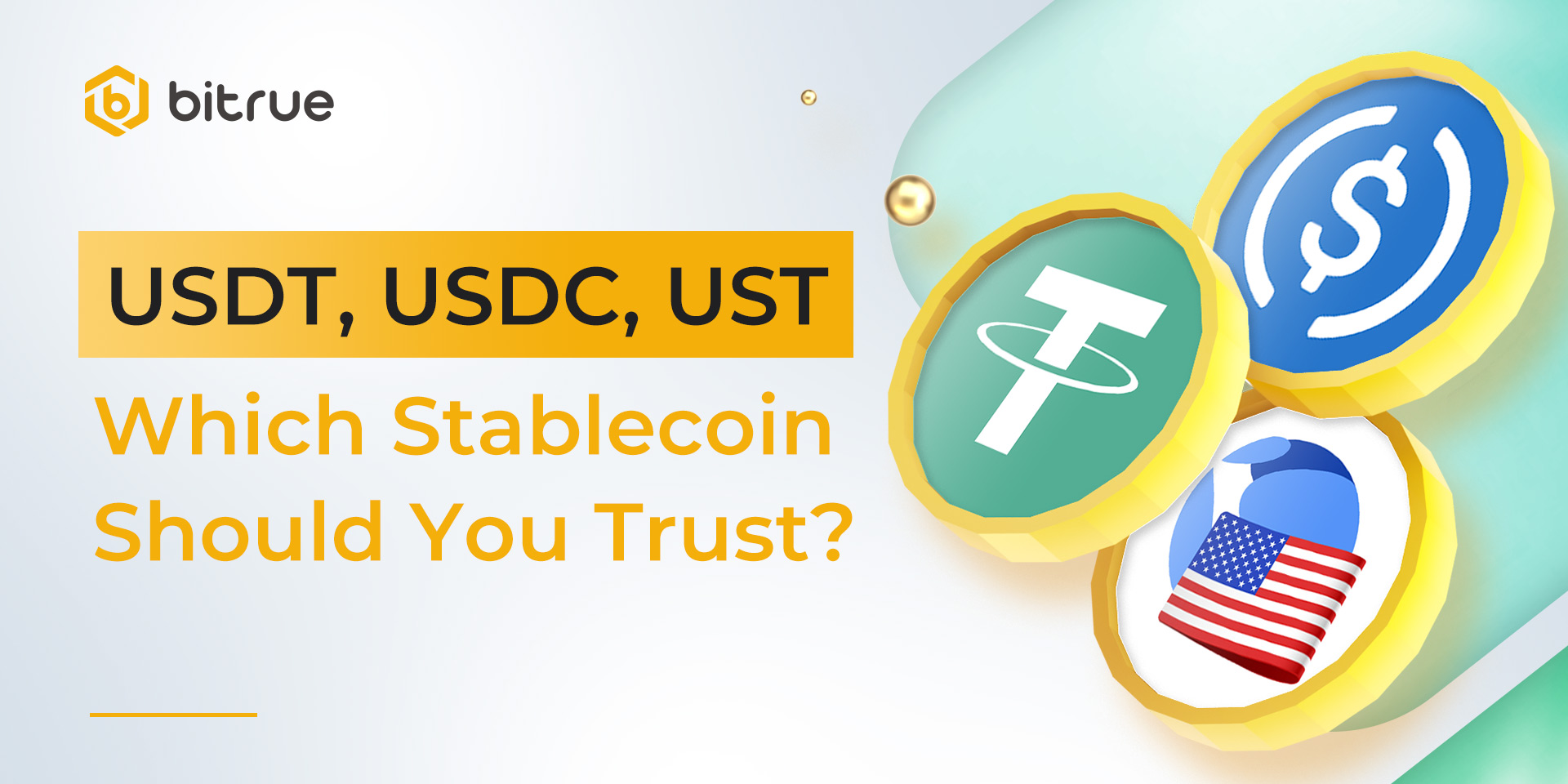 There are a wide variety of stablecoins out there on the market, and a valid question that people often wonder is: "What, if any, are the differences between these coins, and why should I care?"
If you're new to the crypto industry or need a quick reminder, stablecoins are coins that are pegged to the value of a real world currency, meaning that the coins always have a stable value that is (give or take a fraction of a percent) always the exact same value as their real world counterpart. 1 USDT is intended to always be worth $1.
It's very useful to have these stablecoins in the crypto world for a few reasons. First of all, it makes it easy to compare the relative values between coins. It also provides a handy way to temporarily opt-out of volatile markets and lock in your portfolio value for a period of time. If you believe that the value of an asset you've bought is about to fall, you can cash out to a stablecoin and retain that value for as long as you need. When you think the value of the asset will rise again, you can use your stablecoins to buy back in at a lower price than what you sold for. If stablecoins weren't around you'd either have to cash out to another crypto, which will also be volatile and have risk, or you would have to go through a costly and time consuming off and on-ramp process.
So now that we know why stablecoins exist, why are there several of them all trying to do the same thing? Bitrue supports multiple coins that are pegged to the United States Dollar, should you care about the differences?
On Bitrue we mainly support three different coins - Tether (USDT), TerraUSD (UST), and Circle (USDC), so let's take a quick look at what makes each one special.
Tether (USDT)
Tether was one of the very first stablecoins introduced to the market and as of March 2022 it is the market leader, widely adopted by users and exchanges. They claim that each USDT they issue on the blockchain is matched by an equivalent dollar held in their company reserves, however this has been a major point of contention in the crypto community for the last several years as the Tether team have never released a satisfactory audit from a third party which proves they have the funds that they claim.
Tether is also not as decentralized as some people hope - they are able to blacklist addresses that they believe are involved in crime. The power to unilaterally wipe out funds held by private individuals is something that crypto purists believe is anathema to the founding principles of decentralized trustless currencies.
TerraUSD (UST)
UST comes from Terraform Labs, a highly successful Korean company made up of experts in the e-commerce field. Unlike Tether, UST is not backed by real world assets and instead maintains its price through sophisticated algorithmic balancing which expands and contracts monetary supply as appropriate when the value of the stablecoin starts to deviate from $1. This makes the asset infinitely scalable.
UST also has a variety of interesting features built-in, such as the ability to earn yield at highly stable rates.
USD Coin (USDC)
USDC is managed by Circle Internet Financial and like Tether it claims to be backed by real world assets. Unlike Tether though, Circle are subject to monthly audits from a trusted third party which proves that they have the capital behind every USDC that is minted, which means you can be sure that the coins have real value. This makes it significantly more secure and safe to use compared to alternatives.
Circle is strongly tied to major crypto companies such as Coinbase and Poloniex, and is subject to the laws and regulations of the United States, allowing you to place significant trust in their operations.
If you are not sure which coin best suits your needs, Bitrue suggests using USDC, as they have consistently shown that they can be trusted and have significant backing from large regulated companies. USDC is integrated into Bitrue products and services including
investments
at 8.4% APR,
loans
, and so on. It's also available as a
base currency
, meaning that you can directly use your USDC to buy a wide variety of different assets and vice versa.