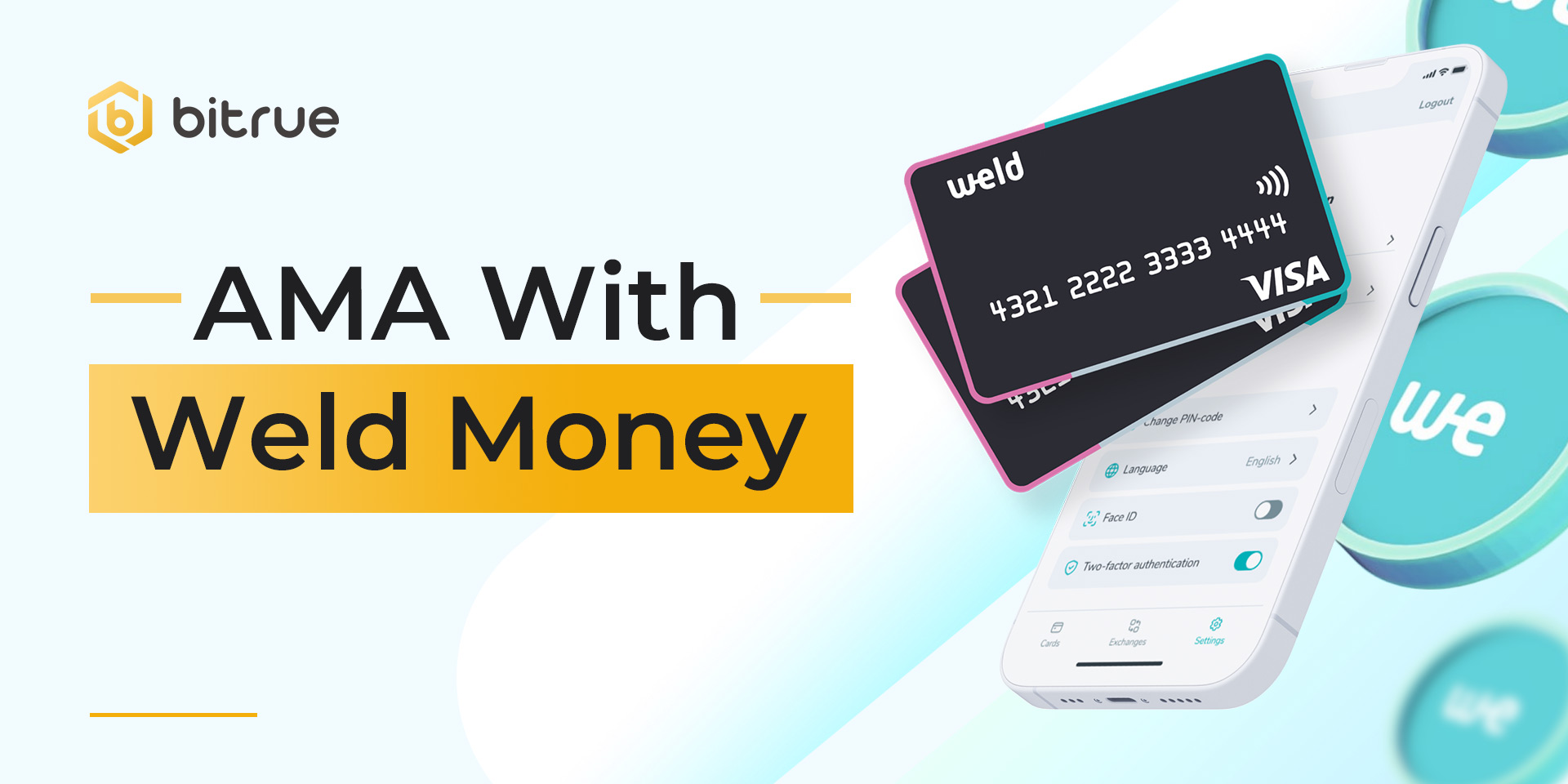 Weld Money has successfully passed the BTR Vote and is now available for trading on Bitrue! Their team sat down with Bitrue to answer a few questions and let us learn more about who they are and how they're achieving their goals. Learn more about Weld Money here:-
Bitrue: Please tell us a bit about Weld Money: who you are, what are your main benefits, and why should customers the Weld card instead of something else? Are there any similar services around the world?
Weld Money: Yes, in some regions, the offer of cards with the possibility of a payment in cryptocurrencies is present. But, for example, in Ukraine and Russia, we are the first to offer this service in its full-fledged version. But even where we have competitors, our card has some properties that make our offer unique in the market.
So, well, let's take it in order. We are Weld Money, the payment system where you can connect any cryptocurrency wallet, get a card, and make daily purchases directly from your crypto wallet. We are the first cryptocurrency card service to sign a card issue agreement with banks and regulatory authorities in the CIS region.
You can easily connect the Weld card to any crypto exchanges and wallets that store digital assets and make purchases online or via a POS terminal in any store around the world where Visa is accepted.
As for our advantages, firstly, and in this, we are unique. When you make a transaction using the weld card, you do not pay any blockchain fee. You undoubtedly know why this is important.
Probably because the blockchain fee can reach tens and hundreds of dollars sometimes?
Yes, that's right. And this course of things makes the daily payment for purchases with cryptocurrency a meaningless idea. That's why crypto cards are still not widespread. And Weld Money solves this problem. We have already integrated almost all significant exchanges. We already cover more than 70% of the market. Just last week, we integrated Huobi, now we're listing on Bitrue. So this is far from 70% of the market already, but much more.
How do we avoid blockchain fees? Since the transaction takes place inside the exchange from the user's account to our corporate account. And as a result, there is no fee. This is a unique offer on the market. Moreover, only in this scenario, it becomes profitable to pay with a card for the everyday purchases that we make during the day.
What other benefits of Weld Money can you name?
We make instant cashback from your purchases up to 9%. Its size depends on a number of factors, but you must agree, this is a very pleasant return of part of the money spent. You can also manage your investment portfolio in our application. You can choose a bank that is convenient for you, open bank accounts in different jurisdictions.
We have the opportunity to enable expense control if, for example, you ordered a card for your child. It is possible to divide payments between several people and make shared payments. You can also make regularly scheduled payments. In fact, our app has all the functionality that allows you to have full control over your money, supplemented by the ability to work with cryptocurrencies. It's really cool, right?
There is also one killer feature, since now NFT is a definite trend: we have added the ability to customize the card's appearance using your personal NFT. We think such a feature will be in great demand.
What does a transaction on your card look like in practice? Do the merchants know that they accept payment in crypto? Some sellers might not like the idea of dealing in crypto.
No, the seller doesn't have to know that he accepts crypto at all. When paying via Google / Apple Pay, the bank releases the fiat transaction into overdraft, and Weld instantly transfers the amount needed for the purchase in cryptocurrency from the user's balance to his corporate account on the same exchange.
The innovative architecture of the service does not require pre-replenishment of the card, and, what is important, it allows you to avoid high fees for blockchain verification, due to free intra-exchange transfers.
What assets can be used to pay with your card?
So far, we are connecting balances in USDT, and in the near future it will be many major coins and tokens, as well as balances of Twitch, Steam, Tiktok and other digital assets. All that will be available as a means of payment at the second stage of weld card development.
What is the mission of Weld Money?
The global mission of the project is to connect the world of cryptocurrencies with traditional finance by creating a seamless payment solution for regular and everyday expenses with minimal fees and support for any crypto wallet.
I'm very very interested in the ecosystem, especially the payment ecosystem currently in Eastern Europe. Is it possible for users there to easily convert crypto into their local currencies?
We have several companies in our corporate structure. We have a payment system, we have an Estonian company with a crypto license and we have several financial partners whose role is to transfer money between exchange and the financial institution or bank which issues a card.
Especially for our region, we created a legal scheme when you as a particular customer give us an instruction — please convert my crypto into fiat, for example. Let's take a transaction of 50 USD for gas or 100 USD for gas. You're giving extraction. Firstly convert these 100 bucks into fiat. It's the first step. The next step — please send these 100 bucks in fiat to my bank account where I have a card. This option is available especially via the money transfer license of our payment system.
So there is no crypto transaction on the territory of a particular country. We use those countries for every operation where it's legal. As Irina has mentioned before, we have new crypto legislation. It was announced like two weeks ago and I think it will start working in the nearest months but during all this period we can work white and legal because of our licenses and using those countries where every operation is transparent and legal.
What I want to add. Unfortunately, Eastern Europe is so big and regarding analytics, it's the biggest region for crypto adoption and the number of crypto users. But unfortunately, here you aren't able to pay somewhere with crypto. It's really so. So we are like the solution for all these businesses, cafes, restaurants, and all the people who want to do this, but they have no option how to spend crypto.
According to our constitution, I mean Ukrainian, Russian, Belarusian and so on crypto is not money. It's an asset and every legislation of each country has its own meaning of this asset. How to convert it, how to pay tax, and so on. Until the constitution of each country won't promote cryptocurrency as a currency such a company like we have a big space for products and tools.
Regarding private companies likeretailers or restaurants, what do you think about their general feeling towards cryptocurrencies? Are they open to taking cryptocurrencies as a payment option? Or are they more skeptical? What do people in those industries feel about cryptocurrencies in general?
I can tell you our market and people's minds are already prepared for the crypto market but unfortunately our banks, all the merchants, and all this system are still so old. They're not focusing on some updates! So that's the reason why we offer a really great product and great solution. Each person who knows about us in this region they're quite happy to be a user of the Weld Money product because you have no other options.
Absolutely! I truly believe that at least at this stage, credit cards like Mastercard and Visa cards are probably the easiest way for retailers to get at least more comfortable with using cryptocurrencies. They can go about their business and not even realize the person is paying crypto.
We should understand that nowadays all financial space, all tools are adopted by Visa infrastructure, Mastercard infrastructure. So excluding China where all population lives in WeChat, Wechat Pay, and Alipay we European guys, American guys we use Visa as tools to access our assets so the card is just a tool. So it's not our goal to issue a card.
Our goal is to give you as much as possible integration with any provider of your assets. It can be a cryptocurrency exchange, it can be Twitch or Google balance if you're an influencer. If you're a gamer and you have some digital balance in Steam you also will have the ability to connect your Steam account and to send money to your friend for your yesterday dinner directly from your balance on Steam. So this is our goal.
You will be able to connect our weld card to your smartphone and just go and pay from your Steam account, or TikTok account everywhere where you live.
We don't want to change the infrastructure right now. We integrate into this infrastructure our legal and technical solution.
Once again. I'm not too familiar with the ecosystem in Eastern Europe; however, what strengths do you believe will change or help with the adoption of cryptocurrencies amongst users in that region?
I think when the user gets an easy and simple application and he knows nothing about crypto, he knows some traditional client procedure in his bank, and when he has absolutely no knowledge about crypto, he should obtain a transparent tool to get this information and to seamlessly open his first wallet. And we will give this functionality later in our application.
We'll give the ability to buy cryptocurrency via our application, take some financial services like credit deposition in fiat and crypto, or backed by crypto, insurances, and stuff like that. What I think is the key feature of our team is that we are ready to listen to our community. So if you join our community and you would offer something to implement in our app or to add as some kind of solution I will definitely listen to you and take it in our pipeline.
I think one of the most recent news that has come out is you know there's been talk about Ukraine looking at you know, passing legislation to make cryptocurrencies legal. So what are your thoughts on that?
Actually, as an international payment system, we have a huge amount of financial partnerships all around the globe including Europe, United Kingdom, Asia, and the USA. We have chosen East Europe as a first market because we have a blue ocean here. So we have no competitors with such a product. If you'll look at Crypto.com or Coinbase and so on — they don't give the ability to issue a card in this region for Russians, Ukrainians, and so on.
As a payment system, we can create a wide legal team uh for producing this project. We can connect all necessary financial companies including exchanges, banks, and so on into our payment system. So you should understand that Payrun our international payment system is the same as Visa or Western Union. We have the same licenses, we're a smaller bit right now, but we have the same licenses, and they had the same abilities to build a worldwide project. So the first stage is to start East Europe and Europe as a whole. At the next stages, we will go into Latin America, Asia, and the Middle East.
What I want to add, it's we are perfect in timing. Because as you mentioned Jackie we have a new law in Ukraine now. It helps us to start our MVP as soon as possible and it also helps us to use this huge wave regarding this news.
There are tons of guys who have income fully in crypto in Ukraine, in Russia, and Kazakhstan, in Belarus. They're waiting for something easy, for something simple to pay for the expenses, to pay for whiskey, for coffee, for gasoline, to send 500 bucks to his mom and we are perfectly in time to launch this product for this region.
What I think might be interesting introducing problems of the near future is the integration of different blockchains into one payment service, right? So what do you see as the strategy to integrate and overcome this problem?
First of all, as I mentioned before, we are ready to be in the flow. We have ears on the market and we are ready to integrate anything that our customers need. For now, we are on the first stage of a better version of our product. We are going to be integrated with as many CEXs as possible. In the second stage, we will connect some kind of wallets like Metamask, Trust Wallet, and stuff like that. In the next stage, we will extend it to different blockchains. At this moment you should understand Solana or Polygon will gain some traction and customers. We will make some kind of voting in our community which blockchain we have to connect next.
Once again. You're starting in Eastern Europe. You've also mentioned you're looking at the Middle East, Western Europe, Asia, and the USA, so how do you see a timeline? Where can we expect some of these services in different places? Because I'm just waiting until I can get my own card.
It depends on the region. Last year we started in Eastern Europe and Europe as the first two regions. This year, we'll investigate Russia and… it depends. I think it will be Asia or maybe the Middle East. If we'll have enough time we also want to discover Latin America because it's also a very big region and a very big market for us. With a deep and high adoption of crypto on that territory.
We're also open to some offers of partnerships and stuff like that. So if let's say tomorrow some investor or group of investors will come to us and say, hey guys, let's start from the USA because we can offer you anything there, and help with all the licenses, with banks connection and stuff like that, why not? We are ready to do this. Yes, we're quite flexible.
What sparked your interest in creating Weld Money?
It's a desire to simplify the world of digital currencies and make them even more accessible.
What made you specifically choose Eastern Europe as your launching point for Weld Money?
Our team was successful in launching other financial instruments in this region. Eastern Europe is a promising area that isn't fully regulated by institutions, which makes it possible to have a good start.
If crypto cards are currently unavailable in Eastern Europe, do you think this unfamiliarity with using them will be a problem?
We issue a regular Visa card, which can be added to ApplePay/GooglePay. The user connects his exchange wallet via API keys using the Weld Money app. Then he can pay for purchases via PayPass on his smartphone. At the payment time the processing center sends us transaction data (for example, $2 for coffee), we transfer the amount (2 UDST) from the user's wallet, for example, FTX wallet to our FTX, and allow the bank to make the payment. The bank opens a short-term overdraft on the card and transfers the fiat to the merchant. At the business day's end, we convert the crypto into fiat and transfer it to a bank account closing the users' daily overdrafts.
What will Weld Money do to beat its competition to be the first such card to launch in Eastern Europe, especially since there is such a high concentration of cryptocurrency users?
Hm… Firstly it should be noted all crypto wallet holders in CIS countries have the common unsolved problem — they don't have an easy way to use cryptocurrency to pay quickly for conventional goods or services. Considering this, one of our key features is the ability to solve this CIS problem. Also, WELD has some additional benefits.
Seamless integration with ApplePay/GooglePay, tax-free crypto transactions on the go (no VAT and other taxes on conversion), transparent pricing, no hidden fees. You pay for what you use, 360 view on personal finance — one app to manage everything (fiat cards/accounts and cryptocurrency wallets), secure and transparent financial flow. Convenience — the ability to add any wallet from a third-party service or crypto exchange. Traditional payment method — payment by Visa/Mastercard (ApplePay/GooglePay). Security — fully PCI DSS compliant solution.
As cryptocurrency is not regulated in Eastern Europe, merchants cannot legally accept payments at this time. Is this a concern?
The presence of crypto in our lives cannot be denied and we hope it will become 100% legal shortly. In current realities, we tried to implement everything possible in our project to avoid unnecessary authority control over it.
How are you intending to overcome the issue of top-ups being expensive?
It all depends on the exchange where you keep your deposit. We act as a currency gateway to send your money from the exchange directly to the card. No money will be deposited through the Weld Money.
Likewise, how do users intend to cope with transfer fees while purchasing by crypto?
The fees will depend on the transaction type. Payment by card — from 1.5%, ATM withdrawal — a bit more expensive. But for WELD token stakers the fees drop to zero.
What security features does Weld Money have to keep user wallets and accounts safe?
The core backend system of Weld Money infrastructure integrates and controls information flows between all members and partners including Bank Processing Center, CEX, Payment systems. Visa and banks are required to provide all data in not more than 4 seconds. But as an online processing core we have an internal goal to reduce it to 1 second. Our processing partner is PCI DSS compliant PayRun international payment system which affords all necessary licenses for money transferring & clearing between financial partners.
Weld Money is launching in Ukraine, what are the next countries on the launch list?
This year, we plan to join Russia, most of the CIS including Estonia, Lithuania, Latvia, and Poland.
Will Weld Money be made available outside of Eastern Europe any time in the foreseeable future?
Of course, yes. We will do everything to achieve it. We have great ambitions and plan to take it all over the whole. As we grow, we will inspire more and more trust, which will allow us to promote from country to country.
What is the biggest hurdle that needs to be leaped to spread crypto card acceptance?
Change people's minds, and face the fact that cryptocurrency has become an integral part of the world economy.
Weld Money can be found at these locations: Website | Telegram | Medium | Twitter | LinkedIn