Dear Bitruers,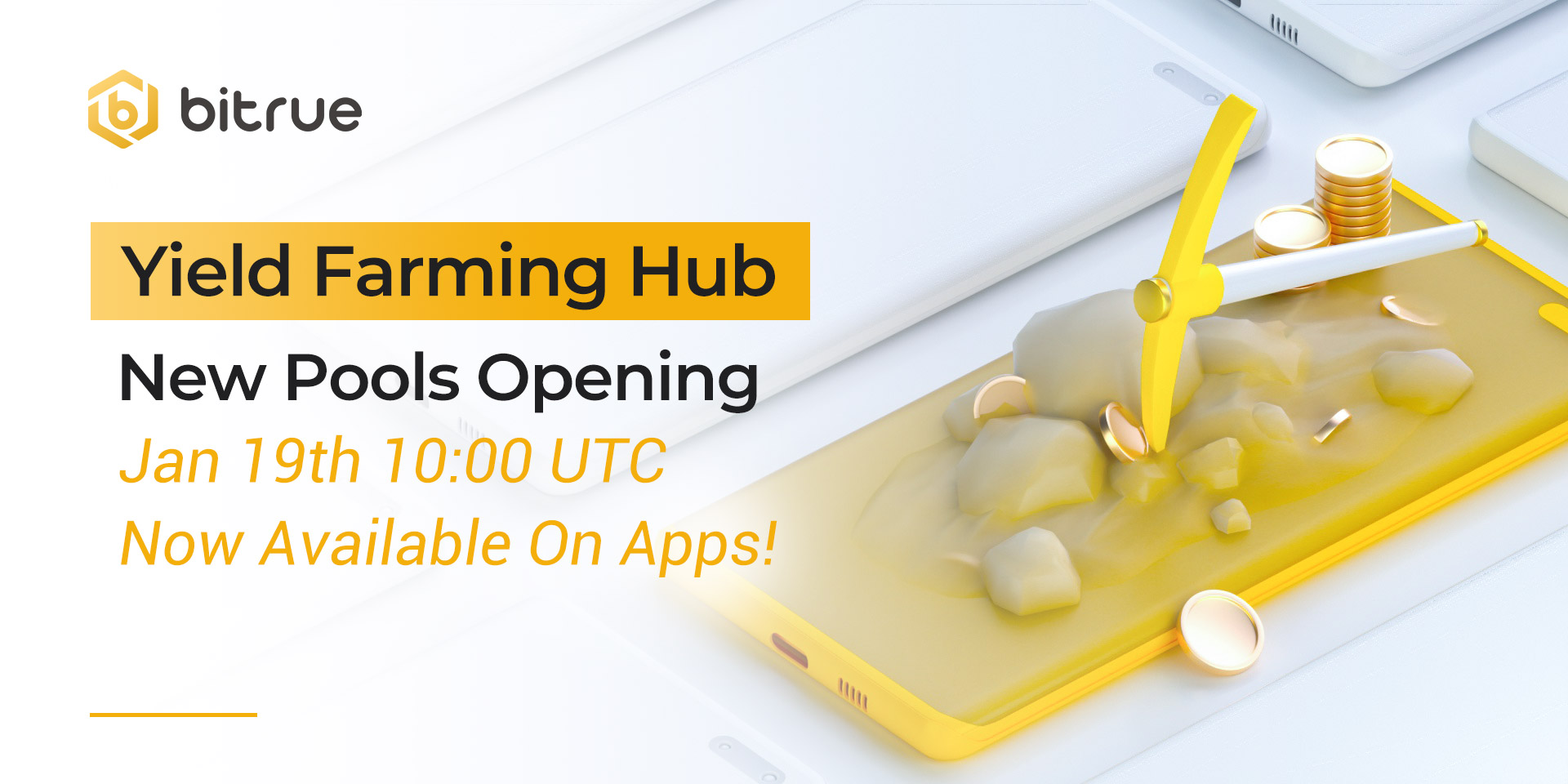 We'll be launching another round of Yield Farming pools starting tomorrow, January 19th at 10:00 UTC!
In case you missed the launch of our new Yield Farming Hub a couple of weeks back, this new feature allows you to stake your coins for a fixed period in order to receive APRs of around 50% or more. These opportunities are largely powered by Bitrue Coin BTR, the platform token of Bitrue that is becoming the world's first Yield Token.
The pools launching tomorrow will be the second round of pools for this feature, and will once again have more than 2 dozen pools opening up covering a wide range of verticals, from payment tokens to community meme coins - you have the freedom to farm whichever coin you believe has the highest earning potential.
If you wish to take advantage of these offers then make sure that you are fully stocked up on BTR. We made it even easier to add BTR into your portfolio at the tail end of last week when we launched a brand new BTR/USDC pair!
We also recently launched the Yield Farming Hub on the Bitrue app, available for Android and iOS. Update today and look for the Farms tab on the homepage.
The list of available pools is as follows:
| | |
| --- | --- |
| Pool | Estimated APR |
| BPX - BPX | 80% |
| BTR - BPX | 40% |
| GREYHOUND - GREYHOUND | 60% |
| BTR - GREYHOUND | 30% |
| ASK - ASK | 60% |
| BTR - ASK | 30% |
| GZXXRPL - GZXXRPL | 80% |
| BTR - GZXXRPL | 40% |
| ELS - ELS | 50% |
| BTR - ELS | 25% |
| SRX - SRX | 20% |
| BTR - SRX | 10% |
| CCN - CCN | 120% |
| BTR - CCN | 60% |
| HODL - HODL | 120% |
| BTR - HODL | 60% |
| SHIELD - SHIELD | 60% |
| BTR - SHIELD | 30% |
| HGHG - HGHG | 100% |
| BTR - HGHG | 20% |
| NVL - NVL | 100% |
| BTR - NVL | 50% |
| XGOLD - XGOLD | 100% |
| BTR - XGOLD | 50% |
| EQ - EQ | 100% |
| BTR - EQ | 50% |