Dear Bitruers,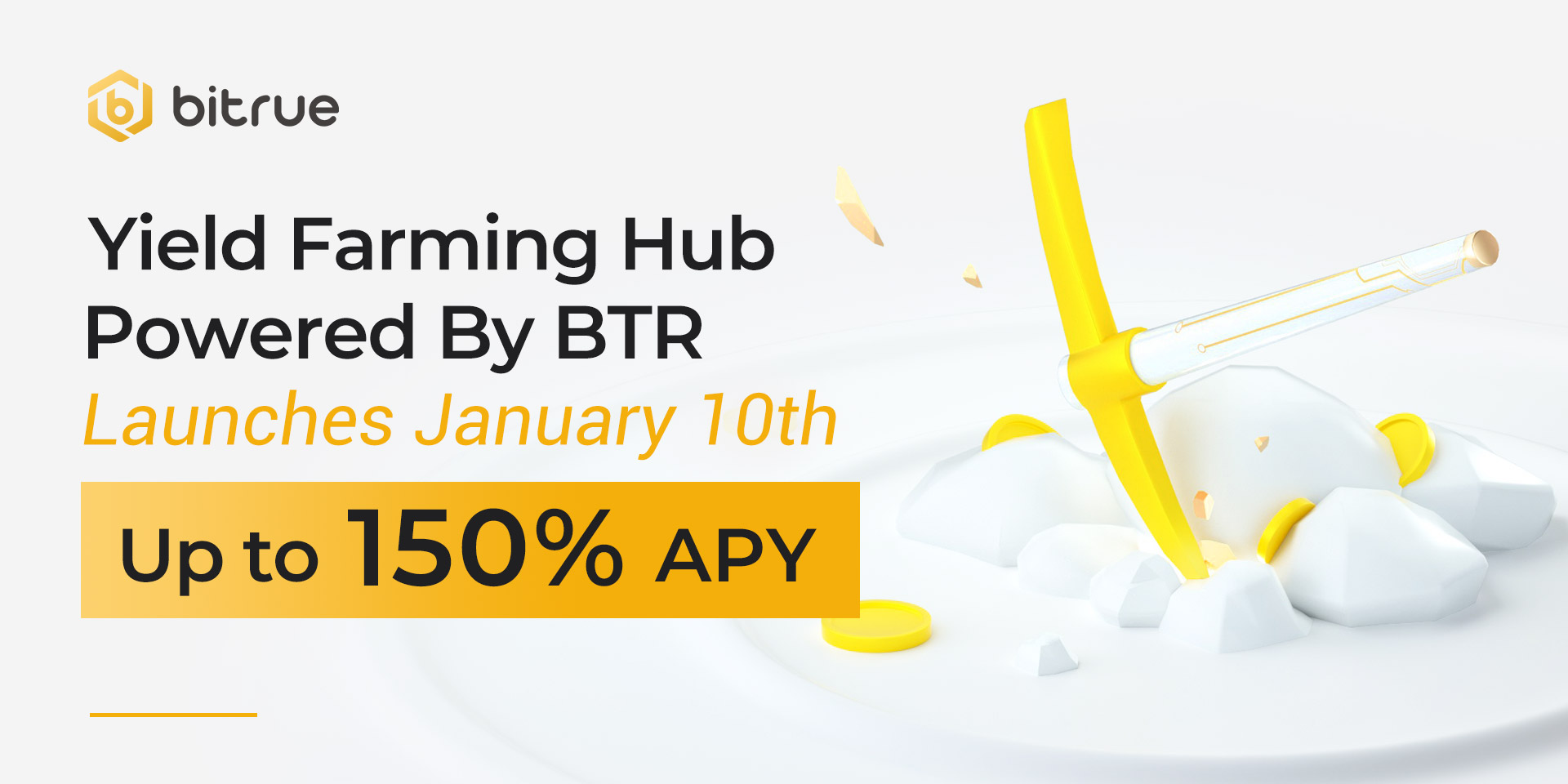 We have our first piece of major news for 2022 coming today - our new Yield Farming Hub will be launching January 10th 2022!
This hub will be a brand new way for you to use your BTR to generate profits for yourself. In a format similar to DeFi staking pools, you'll be able to stake coins and BTR over a variety of time periods in order to receive average APRs of around 50% or more, and up to 200% for the most lucrative. Unlike DeFi investments, there will be 0 risk of impermanent loss for your staked assets when using the investment opportunities in the new Yield Farming Hub. This is because the rewards are coming straight from the project parties who wish to attract the attention of the sophisticated Bitrue community.
This new feature is part of our extensive plan to bring more value to our platform token, Bitrue Coin BTR. We want BTR to become the world's first Yield Token - a coin that users hold specifically to maximize their investment potential. The Yield Farming Hub will join Power Piggy, BTR Lockups, and BTR Votes as an additional option for individual users to generate returns for themselves. We expect that this addition will enable us to become a top 10 exchange in the early part of 2022.
Stock up on your BTR in advance by trading for it on Bitrue, and look forward to the Yield Farming Hub launching on January 10th.
The pools that will be available at launch are:
Pool
(Staked Coin - Farmed Coin)
Estimated APY
BTR - BTR
30%
BTR - XDC
35%
XDC - BTR
40%
MLNT - MLNT
150%
BTR - MLNT
50%
MSD - MSD
120%
BTR - MSD
100%
DUCK - DUCK
65%
BTR - DUCK
20%
LEONIDAS - LEONIDAS
120%
BTR - LEONIDAS
100%
CX1 - CX1
120%
BTR - CX1
100%
TR3 - TR3
60%
BTR - TR3
40%
PROPEL - PROPEL
110%
BTR - PROPEL
55%
EQ - EQ
100%
BTR - EQ
50%
KIRO - KIRO
100%
BTR - KIRO
30%
JAM - JAM
120%
BTR - JAM
100%
DIAMOND - DIAMOND
80%
BTR - DIAMOND
40%
LOX - LOX
100%
BTR - LOX
50%
SMARTLOX - SMARTLOX
100%
BTR - SMARTLOX
50%
SMARTNFT - SMARTNFT
100%
BTR - SMARTNFT
50%