Dear Bitruers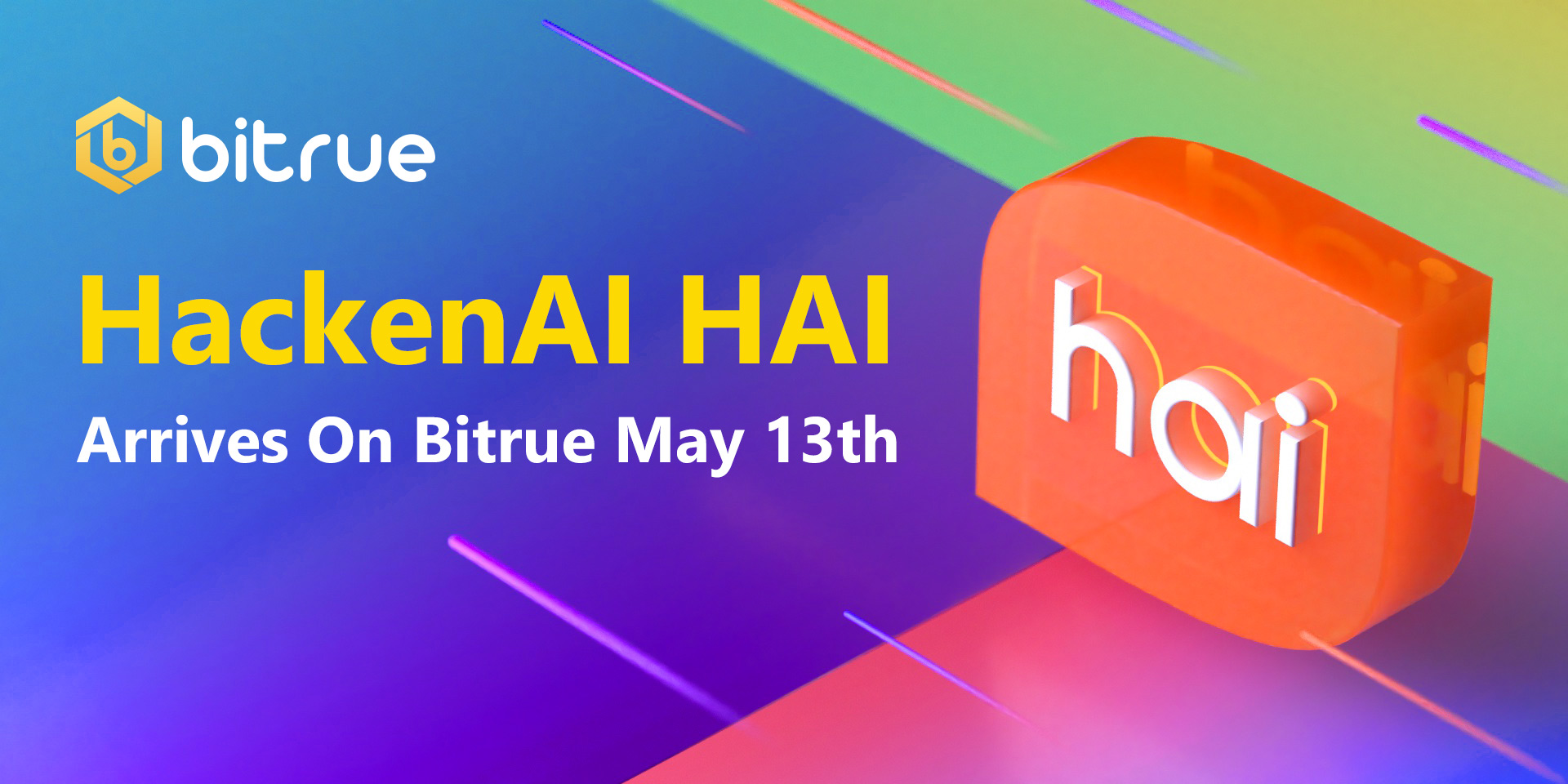 We are pleased to announce that we have another new listing coming very shortly. The next coin joining the ever expanding Bitrue family is Hacken AI (HAI), a project that educates users about cybersecurity issues and provides advanced tools for keeping your passwords, digital assets, and online information secure. You can learn more about HAI and participate in their cybersecurity bootcamp at their official website hacken.ai.
Deposits and withdrawals for this coin will go live on Tuesday May 12th at 09:00 (UTC), to give everybody time to prepare for the launch of trading on Wednesday May 13th at 09:00 (UTC). Initially trading will be available on the USDT pair, with the potential for more to come in the future.
We have some really cool activities planned together with the HackenAI team where you can get your hands on some rewards. Some of them are still a secret for now, but we can first reveal two airdrops of HAI which will be coming soon!
Event 1: Airdrops
The first airdrop will be 500,000 HAI going out to everyone who holds HAI on the Bitrue platform on Wednesday May 20th, while the second will be another round of 500,000 HAI going to XRP holders on Bitrue as of Friday May 15th. The amount of the airdrop you receive depends on how many assets are in your account, where the more you hold, the more you earn. The airdrop distribution will happen before the end of May 31st. The most that any user can earn from an airdrop is 50,000 HAI. Any rewards lower than 50 HAI will not be distributed. Holding BTR will boost the proportion of the airdrop that you receive.
Help spread the airdrop news and we'll enter you into a grand prize giveaway! Retweet our airdrop contest announcement while tagging three of your friends and you could be one of five winners who each win $100 of HAI.
Event 2: Trading Contest
For the first week that HAI trading is live we are having a trading contest where the top 100 HAI traders on Bitrue will share part of a 500,000 HAI prize! The full rules are as follows:
1. Time:
May 13 - May 20 2020
2. Rules:
Bitrue will determine the top 100 users sorted by their HAI trading volumes by 23:59 May 20 (UTC+8). These top 100 users will each receive a portion of 500,000 HAI. The proportion will be calculated using the individual's trading volume compared to the total volume of the top 100.
3. Calculation:
HAI received by the User = Proportion of HAI trading volume of that user * 500,000 HAI
HAI Trading Proportion = ​User's HAI Trading Volume / Total HAI Trading Volume on Platform
4. Distribution: Before June 10 2020
5. Notes:
* Only filled (executed) orders will be considered when calculating trading volume.
* Trading volume refers to the total amount of Sell & Buy orders of HAI.
* Bitrue expressly forbids any wash trading for the event. Accounts involved in such activity will be disqualified from this campaign.
* The maximum reward per user will be 50,000 HAI
To prepare for the upcoming collaboration events, we recommend that users download the HackenAI app, sign up and begin the CyberBootCamp journey today to check the health of your personal online security. This is just one of the many features of the app currently, with others including:
CyberBootCamp
Digital Assets Wallet
HackenAI Password Manager
Staking
DarkNet Monitoring
Referral programs
NFTs and more
You can download the HackenAI app free today:
Android: https://play.google.com/store/apps/details?id=com.hackenai.hackenaiapp
iOS: https://apps.apple.com/us/app/hackenai/id1501384789
Keep an eye on our Twitter for more ways to grab some HAI coming very soon!