Contentos (COS) will land on Bitrue soon!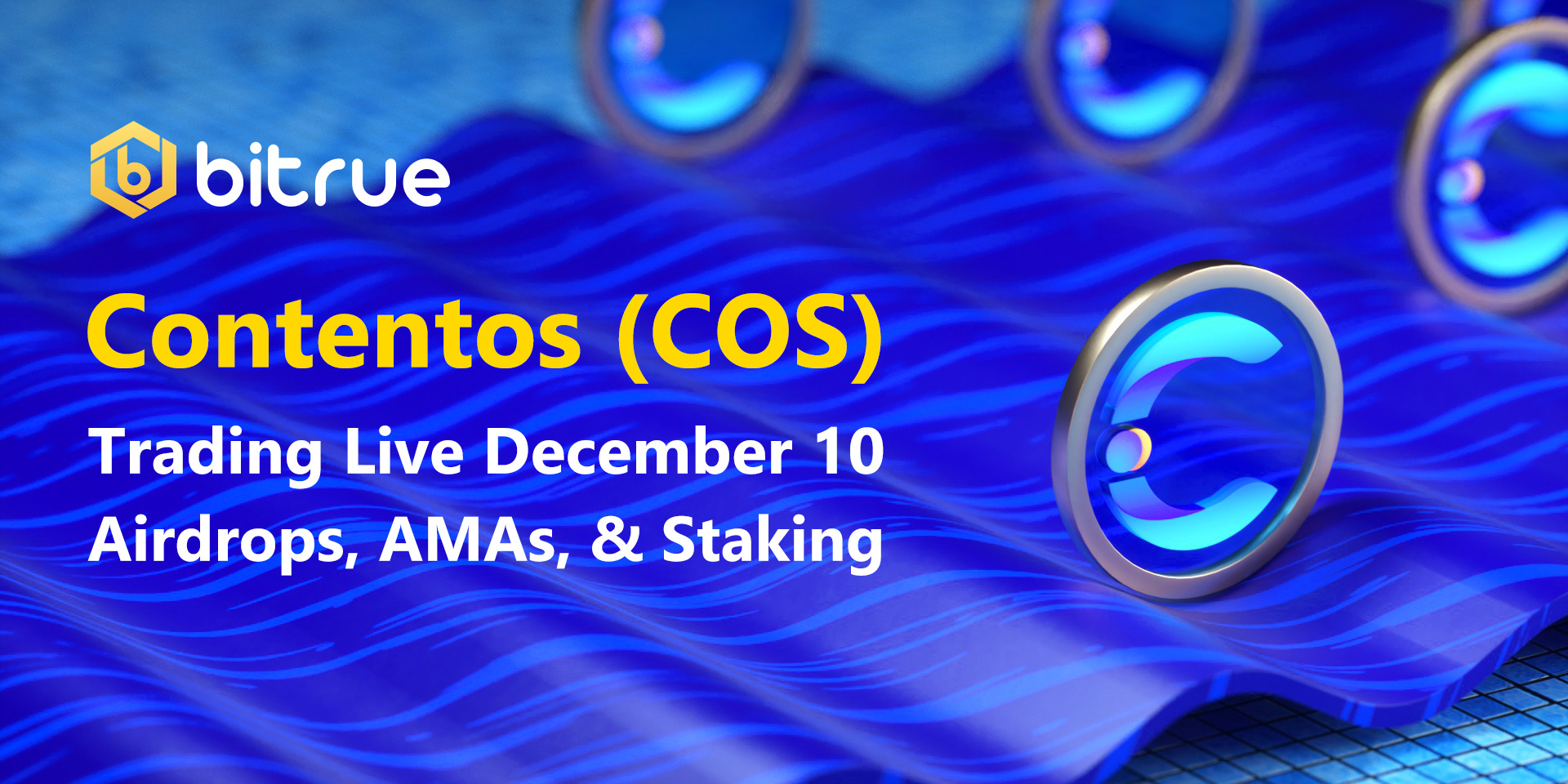 Dear Bitruers,
Another hot new coin is about to hit Bitrue. Contentos (COS) is enabling online content creators to thrive by providing a platform where they can receive a fair share of the revenue they generate, without having to pay a huge cut to the platform holder. You can create an account and find more information about Contentos by heading to their official website at https://www.contentos.io/
We will be listing COS on Bitrue according to the following schedule:
At 2:00 pm (GMT+8) on December 9th, deposits and withdrawals of Contentos mainnet (COS) will be enabled;
At 2:00 pm (GMT+8) on December 10th, the COS / XRP & COS / USDT pairs will go live.
We have a few events planned to help everybody learn more about Contentos' mission and even earn some free VEST along the way. VEST is the pledged form of COS and can be converted back into COS over time.
Activity 1 - 1st AMA & Prize Draw
Want to know what makes Contentos unique? Eager to hear about their future plans? Then ask away in this AMA session featuring Mick Tsai, Co-Founder & CEO of Contentos, and Curis Wang, CEO of Bitrue, who will be live on XRP Zoo along with XRP1000Bones.
Time

: Recording on 8:00 am December 7th 2019 UTC+8 (7:00 pm December 6th EST), uploaded soon after.
Location

:

XRP ZOO YouTube Channel
Prize: 200 people will each receive 300 VEST
How to Enter:
Prize Distribution:

Before December 31st 2019
Activity 2 - AMA Part 2
If you're not around for the first session, there will be another AMA held in our Telegram group where Mick Tsai and some other members of the Contentos team will be answering your questions.
Time:

December 12th 5:00 pm (UTC + 8). Questions can be submitted starting from December 9th.
Location:

Bitrue's official telegram group
Prize:
100 people will each receive 300 VEST
10 users who have their questions answered will receive 1,000 VEST each
How to enter

:
Sign up on the

Bitrue platform

Open an account on

COS.TV

Join our official

Telegram group

Submit at least 1 question in advance. Form to ask questions will be shared at a later date.
Prize Distribution:

Before December 31st 2019
Activity 3 - Stake Your COS And Gain Interest
Bitrue and Contentos have teamed up to offer a unique investment opportunity where you can stake and convert your COS into VEST, and gain interest over 13 weeks. There is a limited cap for this investment opportunity.
We will open this cap on December 13th and will keep it open for one week or until it runs out. This staking opportunity will offer an unprecedented 60% APR, disbursed over the following 13 weeks. To see all of the information and to begin investing your COS, please check the official page.
As always, the best way to keep up with everything we're doing is to follow BitrueOfficial on Twitter. We'll see you again with more exciting news soon!
The Bitrue Team
December 3 2019