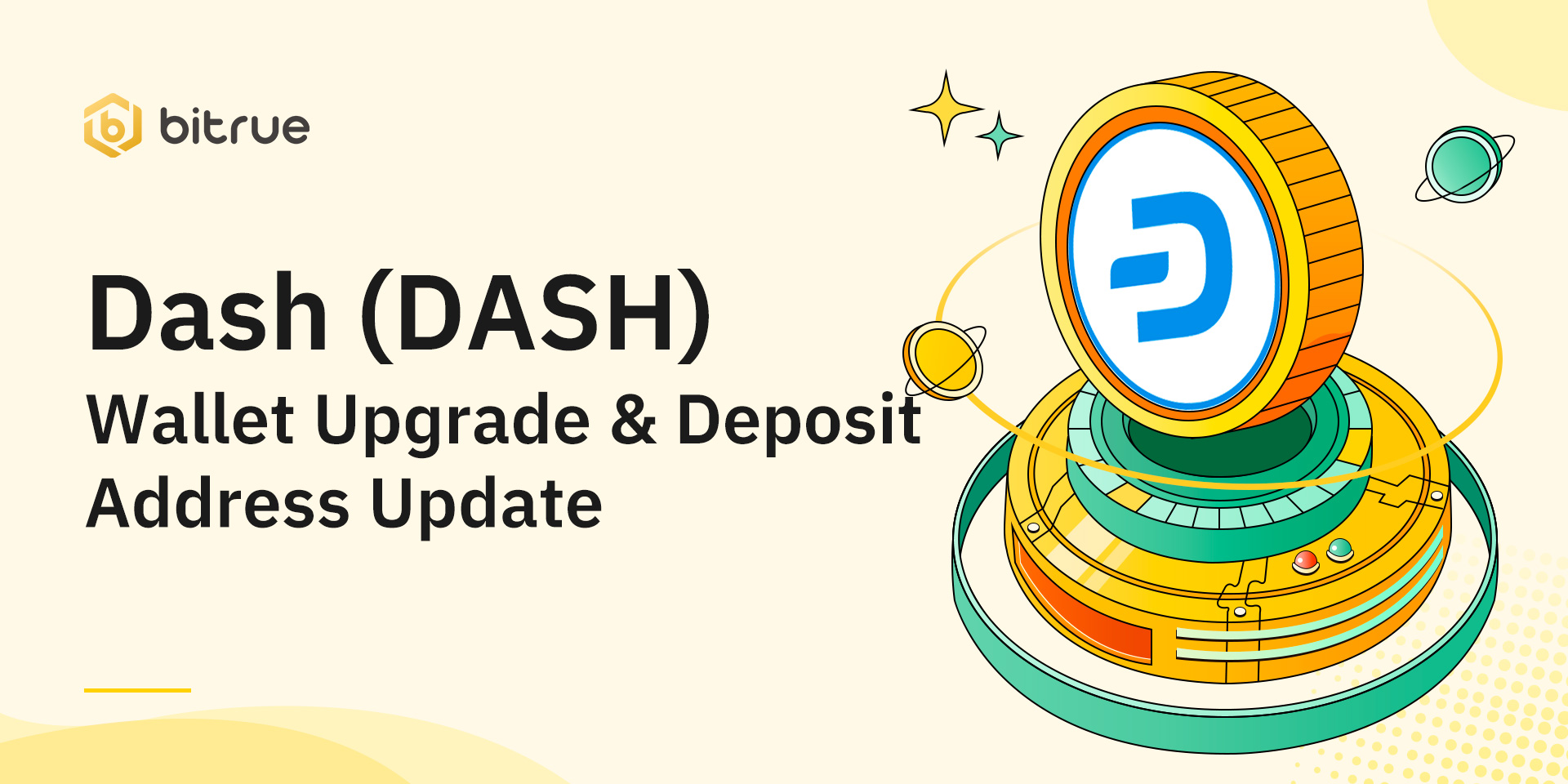 Dear Bitruers,
In our continuous effort to enhance wallet efficiency and bolster fund security, Bitrue is upgrading its wallet infrastructure. We will commence the Dash (DASH) wallet upgrade and update user deposit addresses on November 28th, 2023 with details as follow:
November 28th, 2023 at 3:00 UTC: Suspension of Dash (DASH) deposits and withdrawals. Kindly refrain from making any deposits after this time to avoid potential loss.
November 28th, 2023 at 11:00 UTC (estimated): Completion of the Dash (DASH) wallet update. Deposit and withdrawal services for Dash (DASH) will be reinstated.
Following the update, users will need to obtain their updated Dash (DASH) deposit addresses. Kindly discontinue the use of the old deposit address. For the funds deposited into old addresses after the completion of the Dash (DASH) wallet update, it will remain secure and will not be lost, you will need to utilize our "Locate a Lost Deposit" feature and reach out to our support team for assistance in crediting your funds. But please highly note that the "Locate a Lost Deposit" feature can only be utilized within 6 months after the completion of the Dash (DASH) wallet update on November 28th, 2023. After that, any Dash (DASH) deposit transaction using the old wallet address will not be able to be retrieved.
Thank you for your understanding and continued support!

Regards,
Bitrue Team
Frequently Asked Questions (FAQ)
Why should I consider making the switch?
Transitioning to the new system is a crucial step towards fortifying the security and safeguarding of your valuable assets. The enhanced security measures implemented in the updated framework will help shield your assets from potential risks and threats.
What specific actions are required from users? (Is any account-related operation or confirmation necessary for the asset switch?)
Users are simply required to update their designated deposit address. This straightforward process does not entail any additional account operations or confirmations. By ensuring your deposit address is current, you are taking a proactive step in securing your assets.
When is the recommended time frame to commence this process, if deemed necessary?
Commencing on November 28th, 2023, we strongly advise users to replace their deposit addresses. This well-defined timeline provides ample opportunity for a seamless transition to the new system, ensuring uninterrupted access to your assets.
What should I do if I miss the stipulated deadline?
In the event that the deadline passes, there is still a recourse available to users. You can initiate the recovery of your assets by utilizing the "Locate a Lost Deposit" feature within a six-months grace period. This safety net allows you to regain access to your assets even if the deadline is missed, preserving your financial security.


Disclaimer: Bitrue reserves the right in its sole discretion to amend or cancel this announcement at any time and for any reasons without prior notice.
Cryptocurrency markets are highly volatile and can experience rapid price fluctuations. You may lose some or all of your invested capital, and past performance is not indicative of future results. You are solely responsible for your investment decisions and Bitrue is not liable for any losses you may incur. The information provided on this platform and any associated materials are for informational purposes only and should not be considered as financial or investment advice. For more information, see our Terms of Use and Privacy Policy.