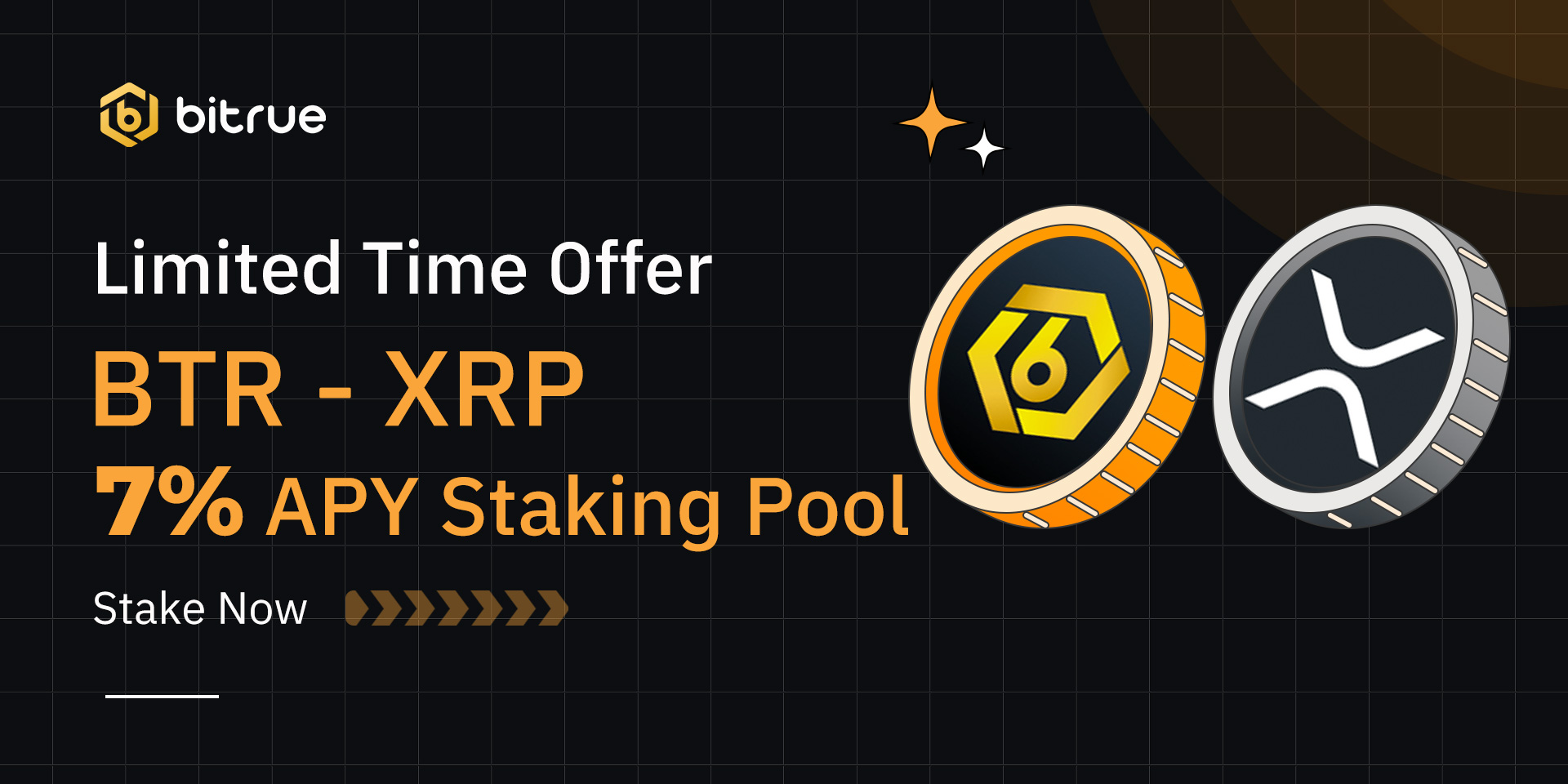 Introducing new Staking products for BTR and XRP tokens on Bitrue. With this exciting new feature, you can now stake your tokens starting from November 22nd, 2023 08:00 (UTC) and watch your assets grow effortlessly. Let's dive in!
| | | | |
| --- | --- | --- | --- |
| Invested Coin | Reward Coin | Lockup Period | APY (Estimated) |
| BTR | XRP | 30 Days | 7% |
| XRP | XRP | 30 Days | 2% |
*Please note: While the staking reward in native token pools tends to be fixed and corresponds to the shown APY, the staking reward in the non-native pool will be adjusted due to the price fluctuation of the tokens.
Staking is one of the most secure and rewarding ways to grow your crypto holdings. It helps secure the networks and allows you to contribute to the blockchain ecosystem while earning the benefits.
Why Choose Bitrue Staking?
High Rewards: Bitrue offers competitive APY (Annual Percentage Yield) rates for staking, allowing you to maximize your earning potential.
Safety and Security: Bitrue is committed to providing a secure platform for your investments. Your tokens are protected with robust security measures.
Ease of Use: Our user-friendly interface makes it easy for both beginners and experienced users to stake their tokens.
How to Participate in Bitrue Staking?
Step 1: Deposit the tokens or buy them here if you don't hold them on your account.
Step 2: Go to Bitrue Staking page and look for the tokens you would like to stake on.
Step 3: Select "Stake Now"
Staking your tokens on Bitrue is a smart move for anyone looking to maximize their cryptocurrency investments. Get started today, and experience the benefits of staking on Bitrue for yourself! Don't miss out on this fantastic opportunity, and start earning today!
Disclaimer: Bitrue reserves the right in its sole discretion to amend or cancel this announcement at any time and for any reasons without prior notice.
Cryptocurrency markets are highly volatile and can experience rapid price fluctuations. The value of your investment may go down or up and you may not get back the amount invested. You are solely responsible for your investment decisions and Bitrue is not liable for any losses you may incur. Make sure to do your own research and consider your risk tolerance. The information provided on this platform and any associated materials are for informational purposes only and should not be constructed as financial or investment advice. For more information, see our Terms of Use and Privacy Policy.