Dear Bitruers,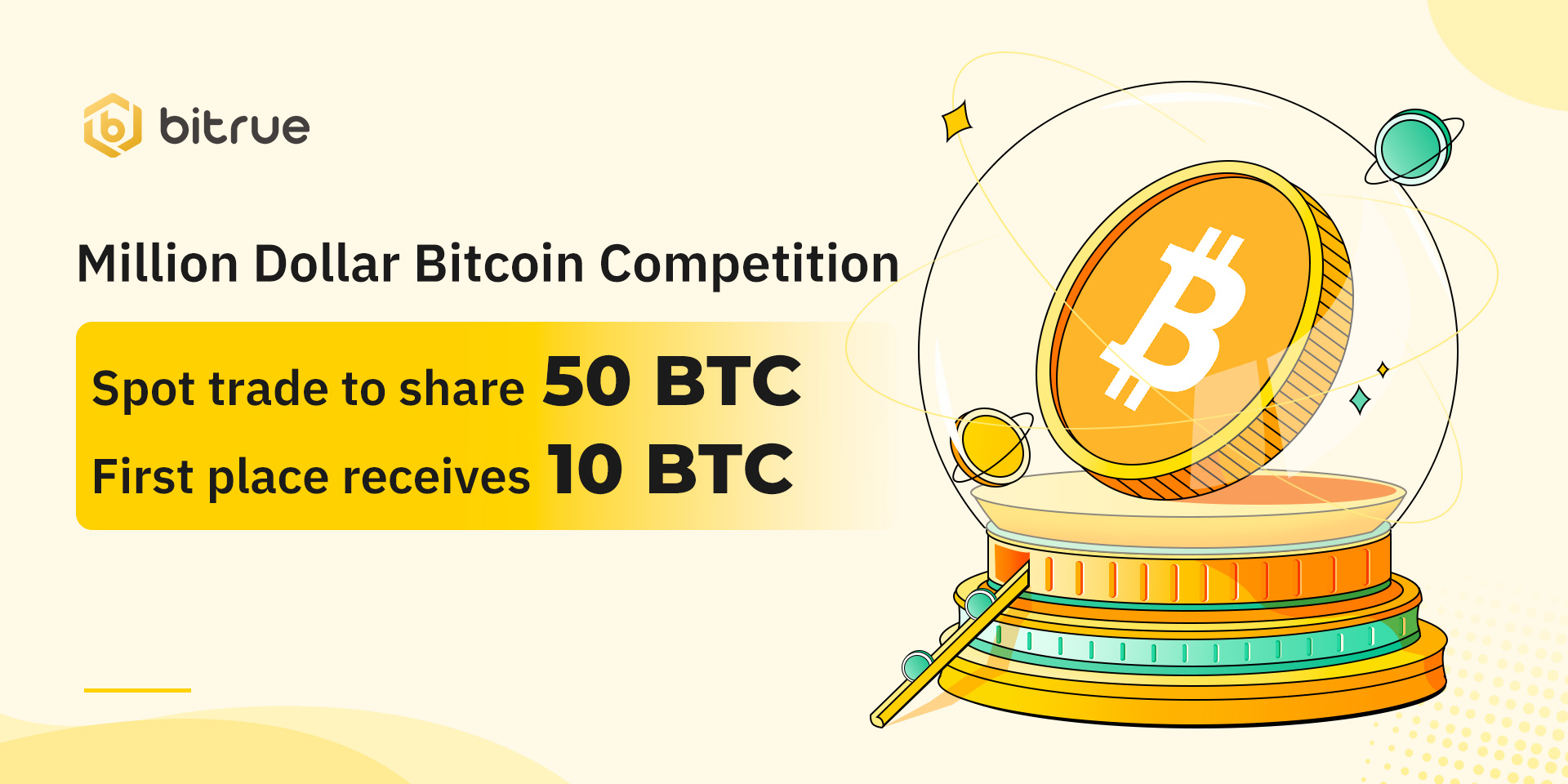 Since the launch of the Bitrue Million Dollar BTC Spot Trading Competition, we have seen an impressive response with a total of 15,000 registered participants and a cumulative spot trading volume of 300 million USD. Together, all participants will be sharing a grand prize of 50 BTC.
At the moment, the top trader has achieved a remarkable trading volume of 15 million USDT, positioning them to receive an exclusive reward of 10 BTC, equivalent to a value of 270,000 USDT!
Don't miss out – register and take part in spot trading now to be part of the event and have a chance at sharing in the 50 BTC prize pool!
Current Top 100 Rankings:
(For ease of tracking and viewing, please be aware that transaction amounts are approximations. The exact transaction amounts will be determined in the post-competition settlement.)
User
Current Trading Volume
BTC Prize Pool

Corresponding Value (USDT)

fp***Vs@gmail.com
15,000,000
10 BTC
270,000
ow***r6@hotmail.com
11,000,000
5 BTC
135,000
nE***FI@gmail.com
7,000,000
2.5 BTC
67,500
d5***dM@yahoo.com
5,000,000
nl***QP@hotmail.com
2,950,000
7j***9y@icloud.com
2,850,000
li***GH@ukr.net
2,750,000
lp***eh@outlook.com
2,650,000
z8***2J@outlook.com
2,550,000
jV***d9@gmail.com
2,450,000
qp***44@outlook.com
2,350,000
2.5 BTC
67,500
5G***9B@msn.com
2,250,000
EQ***SU@outlook.com
2,140,000
OI***TQ@msn.com
2,040,000
Ut***Mt@yahoo.com
2,030,000
17***S8@icloud.com
2,020,000
Ze***Yy@gmail.com
2,010,000
nR***K3@hotmail.com
2,000,000
WS***PJ@hotmail.com
1,990,000
J0***tH@gmail.com
1,980,000
Uq***nN@yahoo.com
1,970,000
6f***PV@icloud.com
1,960,000
tR***Qz@icloud.com
1,950,000
4v***Wu@hotmail.com
1,940,000
AM***dt@yahoo.com
1,930,000
B4***Gl@outlook.com
1,920,000
or***2U@outlook.com
1,910,000
ha***1b@icloud.com
1,900,000
rI***HW@gmail.com
1,890,000
EU***43@icloud.com
1,880,000
9Y***PP@msn.com
1,870,000
o1***96@outlook.com
1,860,000
PZ***pc@yahoo.com
1,850,000
Qa***mV@outlook.com
1,840,000
UP***VS@msn.com
1,830,000
zd***Sq@msn.com
1,820,000
F4***TI@outlook.com
1,810,000
w9***4f@ukr.net
1,800,000
8U***Hy@yahoo.com
1,790,000
V3***y9@gmail.com
1,780,000
hP***M4@outlook.com
1,770,000
f8***ar@icloud.com
1,760,000
eK***kQ@icloud.com
1,750,000
Uz***hN@outlook.com
1,740,000
Kf***eV@ukr.net
1,730,000
tC***oc@msn.com
1,720,000
1r***Ox@gmail.com
1,710,000
KJ***ft@ukr.net
1,700,000
k7***ZK@gmail.com
1,690,000
Hp***vB@msn.com
1,680,000
eU***Qc@msn.com
1,670,000
au***pj@icloud.com
1,660,000
uJ***Nz@hotmail.com
1,640,000
1c***vT@ukr.net
1,630,000
SH***wA@msn.com
1,620,000
ac***gj@gmail.com
1,610,000
q3***J4@icloud.com
1,600,000
k2***AV@msn.com
1,590,000
Qr***OR@hotmail.com
1,580,000
fX***Nc@hotmail.com
1,570,000
jl***kS@msn.com
1,560,000
uc***25@gmail.com
1,550,000
PA***YP@icloud.com
1,540,000
cC***xo@yahoo.com
1,520,000
Fn***3C@yahoo.com
1,510,000
F9***s2@gmail.com
1,500,000
op***r@naver.com
1,070,000
we***DG@hotmail.com
620,000
DU***1P@msn.com
590,000
cc***n@gmail.com
570,000
Ly***js@msn.com
560,000
e9***Kj@outlook.com
530,000
Sk***EM@msn.com
500,000
bP***nt@icloud.com
470,000
GH***X8@yahoo.com
440,000
BR***ZF@gmail.com
360,000
aM***wk@gmail.com
320,000
sad***rivet@gmail.com
310,000
5b***YR@msn.com
280,000
tu***rtak2@gmail.com
240,000
tC***hp@outlook.com
200,000
Vi***tW@yahoo.com
190,000
Is***XM@hotmail.com
180,000
zC***bq@gmail.com
170,000
C8***Pg@hotmail.com
160,000
ZE***Cv@msn.com
150,000
Hz***AB@yahoo.com
140,000
W7***jj@outlook.com
130,000
IY***EP@msn.com
120,000
uA***Q4@ukr.net
110,000
ky***Ak@yahoo.com
100,000
oF***M4@icloud.com
90,000
EL***sq@icloud.com
80,000
zl***iq@hotmail.com
70,000
Ep***Lr@gmail.com
60,000
1f***9e@yahoo.com
55,000
cP***qV@msn.com
50,000
HI***uz@msn.com
45,000
sp***WW@msn.com
40,000
oJ***LD@ukr.net
39,000