Dear Bitruers,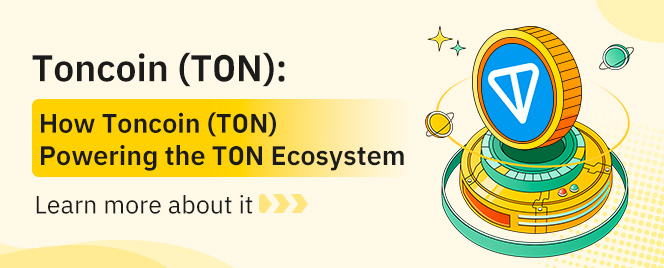 Today, we are excited to share a new article about

Toncoin (TON)

!. Be sure to follow

Bitrue's Official Twitter

and

Telegram

to stay updated!
Introduction
In the ever-evolving landscape of cryptocurrencies and blockchain technology, Toncoin (TON) stands out as a unique and versatile digital asset. Created as part of The Open Network (TON) ecosystem, Toncoin plays a pivotal role in revolutionizing the internet and how we interact with decentralized applications. In this article, we will explore how Toncoin works, what sets it apart, and its tokenomics and utility within the TON ecosystem.
How Toncoin (TON) Works?
Toncoin is the native cryptocurrency of the TON blockchain platform, which is designed to offer a decentralized and scalable environment for users and developers. Here's how Toncoin operates:
Payment: Toncoin serves as a digital currency that users can employ for transactions within various decentralized applications (DApps) on the TON platform. Whether you're making purchases or sending funds, Toncoin facilitates these transactions efficiently and securely.

Transaction Fees: To maintain the integrity and security of the TON network, users are required to pay transaction fees in Toncoin when performing actions such as transferring assets or executing smart contracts. These fees incentivize network validators and ensure smooth transaction processing.

Staking: Toncoin holders have the opportunity to participate in the Proof of Stake (PoS) consensus mechanism of the TON blockchain. By staking their Toncoins, users contribute to network security, validate transactions, and, in return, earn rewards for their active involvement in securing the blockchain.

Governance: Toncoin holders may also have a say in the governance of the TON ecosystem. They can participate in voting on important proposals and protocol changes, shaping the future direction of the network.
What Makes Toncoin (TON) Unique?
Toncoin distinguishes itself in several ways:
Versatility: Toncoin's utility extends beyond simple transactions. Its roles in transaction fees, staking, and governance showcase its versatility within the TON ecosystem, making it an essential component for various network activities.

Scalability: The TON blockchain is designed for scalability, with the ability to handle millions of transactions per second. Toncoin's role in securing and facilitating these transactions contributes to the network's scalability.

Community Governance: Toncoin holders have a direct say in the governance of the network, allowing for decentralized decision-making and ensuring that the community's interests are considered.
Tokenomics & Token Utility
Toncoin (TON), the native cryptocurrency of the TON (The Open Network) ecosystem, operates with a maximum supply of 5 billion TON. This versatile digital asset fuels the TON ecosystem in various ways, serving as a payment method within decentralized applications (DApps), covering transaction and cross-chain fees, facilitating staking for network security, and acting as a means of payment for services like decentralized data storage, TON DNS/TON Proxy, and validator fees. Toncoin holders also wield governance power, enabling them to vote on network changes. Security within the network is achieved through a Proof of Stake (PoS) mechanism, where validators use Toncoin as collateral, smart contract-based management of validators and nominators, and efficient contract execution via the TON Virtual Machine (TVM). This comprehensive utility and robust security make Toncoin a cornerstone of the TON ecosystem.
Conclusion
In the realm of cryptocurrencies, Toncoin (TON) shines as a versatile and essential component of the TON blockchain platform. Its multifaceted role in facilitating transactions, securing the network through staking, and enabling community governance makes it a unique digital asset with great potential. As the TON ecosystem continues to evolve, Toncoin is set to play an integral part in shaping the future of decentralized applications and the broader digital landscape.
Official Website & Social Media