Dear Bitruers,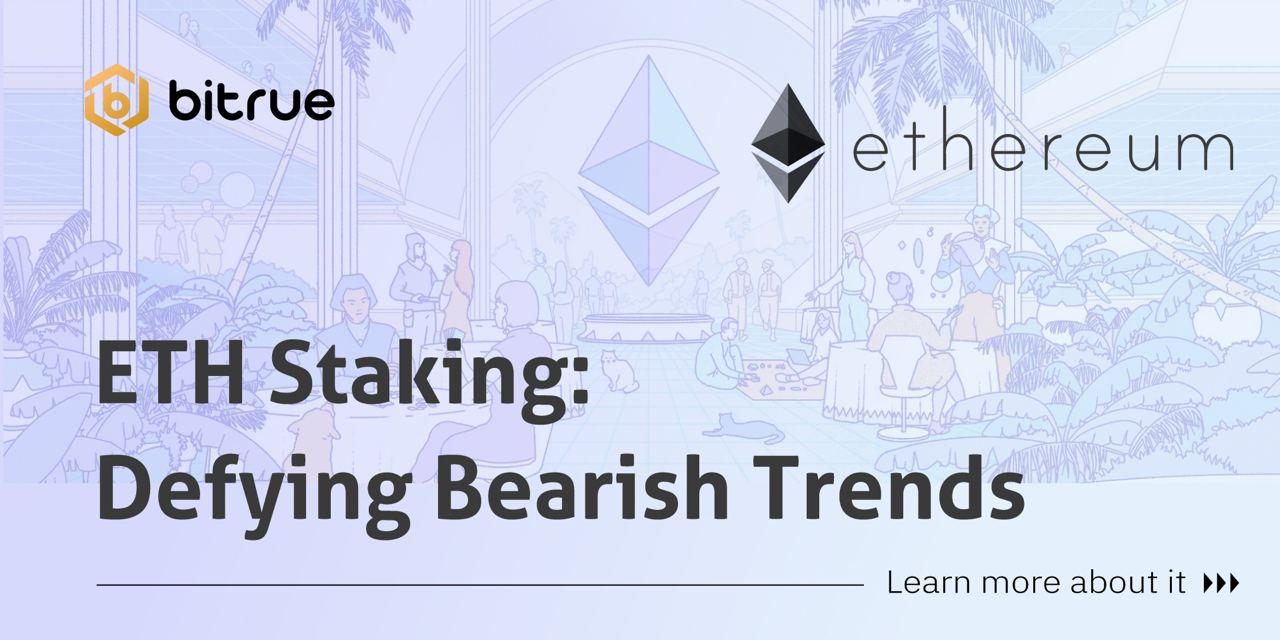 Today, we are excited to share a new article about ETH Staking. Bitrue also launched a New Staking Pool and Flexible Staking for ETH, so be sure to check it out! And don't forget to follow Bitrue's Official Twitter and Telegram to stay updated!
ETH Staking Performance Shows Resilience Amid Bearish Sentiment
While the cryptocurrency market is experiencing a challenging period with bearish sentiment, the performance of Ethereum's staking on the network has shown remarkable strength and stability. Even amidst challenges, the Ethereum network's staking is showing impressive growth and stability. In this article, we'll look at how ETH staking has been doing recently, breaking down the important numbers and explaining why it's doing well.
More People Staking Ethereum Despite Market Dip
In August 2023, the total amount of Ethereum that people have locked up, or "staked," reached a big number: 25,797,853 ETH. This is a big increase from the 24,436,602 ETH that were staked just one month earlier in July 2023. This 5.57% growth in staked ETH is pretty remarkable, especially considering the current negative feelings in the cryptocurrency world. This surge means that many Ethereum holders are committed to keeping their Ethereum locked up in staking contracts, possibly to earn rewards over time and make the network more secure.
Source: https://dune.com/queries/1933076/3188545
More Validators Joining In
Alongside the rise in staked Ethereum, the number of validators on the Ethereum network has gone up a lot too. As of August 2023, there are 804,152 validators actively participating in the staking process to secure the network. Just a month ago, in July 2023, there were 763,644 validators, which means a 5.31% increase. This increase in validators shows that people who help keep the network secure have a lot of trust in Ethereum's future, even when the market isn't doing so well.
Positive Impact of the Shanghai Upgrade and Staking Share
The introduction of the Shanghai upgrade has added to the good vibes around Ethereum staking. Since the upgrade, there has been a net flow of 6,278,556 ETH, which shows that people are excited to take part in the network's growth and development.
Furthermore, the ETH that's staked represents a big chunk—21.64%—of all the Ethereum in existence. This shows that a lot of Ethereum holders are really committed to staking, and this reflects their trust in the network's safety and its potential for the future.
Lido's Role in Staking ETH
One interesting thing about Ethereum staking is that many people are using third-party services to do it. Around 31.98% of the staked ETH is going through Lido, a popular decentralized staking system. This shows that people are open to using different ways to participate in making the network secure and growing.
Source: https://dune.com/sandra/eth2-staking
Ethereum's Inflation Rate and Conclusion
The rate at which new Ethereum is created, called the inflation rate, is very stable at -0.21%. This shows that the network is doing a good job of balancing the growth of supply with the interests of its users.
Source: https://dune.com/queries/1922979/3170603
To sum up, as of August 2023, Ethereum's staking performance shows how dedicated its community is to the network's success. Despite the negative feelings in the wider cryptocurrency market, Ethereum's staking has grown in terms of staked ETH and the number of validators. The successful Shanghai upgrade, combined with the significant amount of staked ETH and the involvement of third-party services like Lido, confirms Ethereum's position as a leading blockchain platform with an active and engaged community.
Official Website & Social Media
Website: https://ethereum.org/en/
Whitepaper: https://github.com/ethereum/wiki/wiki/White-Paper
Twitter: https://twitter.com/ethereum
Exclusive Staking Pool for $ETH, Stake NOW!
Trading for $ETH is available at Bitrue!