Dear Bitruers,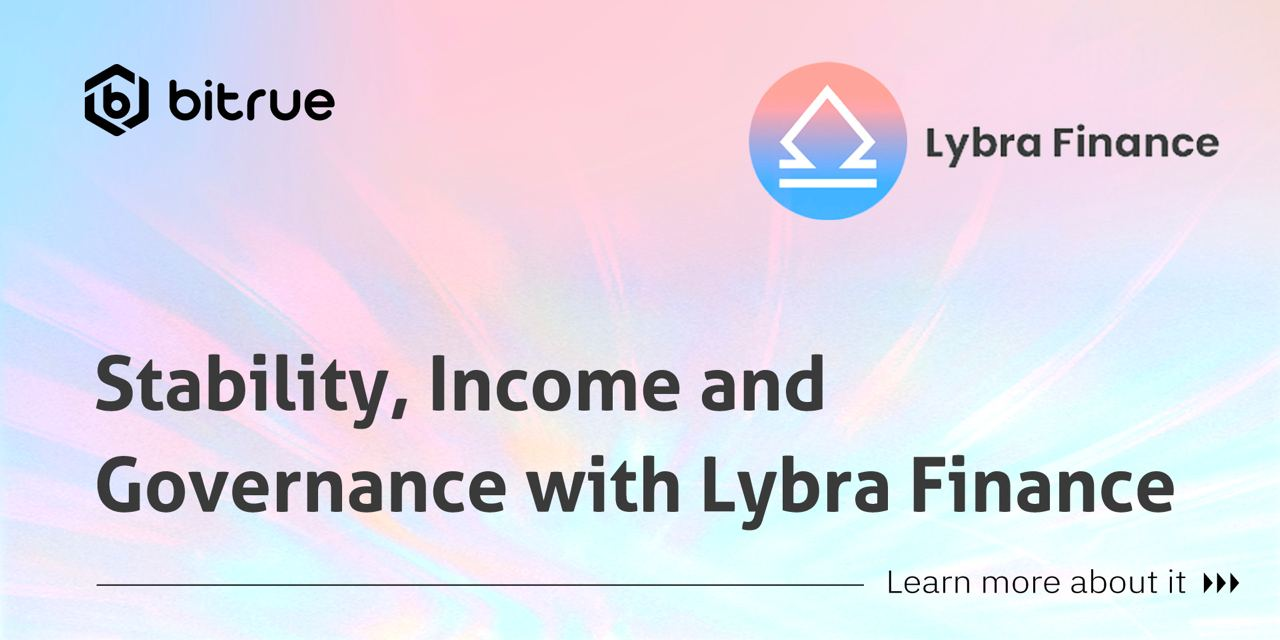 Today, we are excited to share a new article about our new listing Lybra Finance. Be sure to follow Bitrue's Official Twitter and Telegram to stay updated!


Lybra Finance: Highlight Article
Cryptocurrency has emerged as a transformative force in the financial landscape, but its volatility has hindered widespread adoption. To address this issue, the Lybra Protocol introduces a groundbreaking decentralized solution called Lybra Finance. By leveraging Liquid Staking Derivatives (LSD), Lybra Finance aims to provide stability and security to the cryptocurrency industry through its innovative offerings.
What is Lybra Finance?
Lybra Finance is a decentralized protocol built on the Lybra Protocol, which utilizes Liquid Staking Derivatives. The protocol's primary goal is to create a safer and more decentralized stablecoin called eUSD. This stablecoin provides stability and interest income to its holders, offering them a reliable and secure medium for conducting their business.
How does Lybra Finance work?
Lybra Finance enables users to mint eUSD by depositing their ETH and stETH as collateral. This process allows users to borrow against their deposited assets and generate eUSD tokens. The protocol automatically converts the deposited ETH to stETH, an ERC20 token representing ETH staked with Lido Finance. As a result, users receive a stable income in stETH, approximately 5% APY, which is then converted to eUSD and distributed to them.
Source: https://docs.lybra.finance/lybra-finance-docs/overview/introduction-to-the-lybra-protocol
What Makes Lybra Finance Unique?
Liquidity Staking Derivatives (LSD): Lybra Finance leverages LSD, which allows users to stake their assets and earn a stable income. The income generated from stETH, which represents the staked ETH, is converted to eUSD and distributed among eUSD holders, providing them with a stable source of income.
Over-Collateralization and Stability: eUSD maintains stability through over-collateralization, with each eUSD backed by at least $1.5 worth of stETH. This approach reduces the risk of insolvency and ensures the security of eUSD holders' assets.
Interest-Bearing Stablecoin: Unlike most stablecoins that offer limited or no interest income, eUSD allows users to earn a stable interest rate. This feature makes eUSD an attractive option for users looking for a stable store of value while also seeking potential returns on their holdings.
The Role of LBR and Revenue Distribution
LBR is the native governance token of the Lybra Protocol. LBR holders actively participate in governance decisions and receive a share of the protocol's revenue. LBR tokens can be obtained through the Lybra LBR IDO, earning rewards by minting eUSD, or becoming an eUSD/ETH liquidity provider.
The Lybra Protocol generates revenue through a 1.5% annual service fee charged on the total eUSD circulation. After deducting the service fee, the income generated from LSD is distributed among eUSD holders, providing LBR holders with a real-yield based on their stake in the LBR Staking Pool.
Conclusion
Lybra Finance and the eUSD stablecoin provide a groundbreaking solution for stability and income generation in the cryptocurrency world. By leveraging Liquid Staking Derivatives and offering an interest-bearing stablecoin, Lybra Finance empowers users to confidently participate in the DeFi ecosystem. With its focus on stability, security, and the potential for earnings, Lybra Finance has the potential to reshape the landscape of decentralized finance and open up new opportunities for individuals and enterprises worldwide.
Official Website & Social Media
Website: https://lybra.finance/
Contract: https://etherscan.io/token/0xf1182229b71e79e504b1d2bf076c15a277311e05
Twitter: https://twitter.com/LybraFinanceLSD