Dear Bitruers,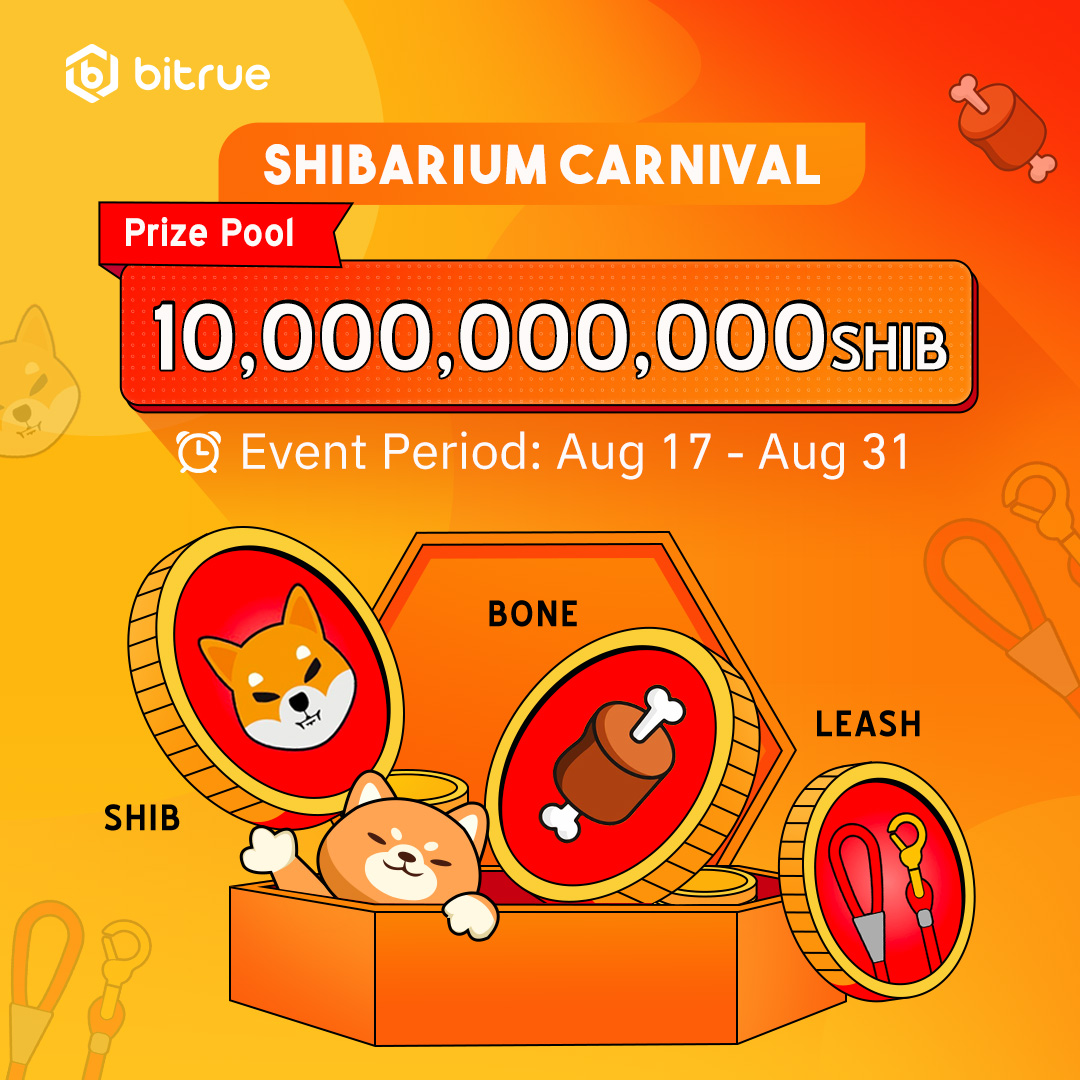 We have launched an exclusive campaign for the Shibarium community with a total prize pool of 10,000,000,000 SHIB! Join and discover the surprises we have in store for you!
Get SHIB Rewards for depositing or trading event tokens, with new user rewards doubled.
Event Period: 10:00 (UTC), 17 Aug 2023 - 10:00 (UTC), 31 Aug 2023
Event Tokens: SHIB, BONE, LEASH
Event Pairs: SHIB/USDT, BONE/USDT, LEASH/USDT
Prize Pool: 10,000,000,000 SHIB Up for Grabs - First Come, First Served.
All users must click the "Participate Now" button below to participate.
Rewards Distribution:
Deposit Amount of Event Tokens
OR
Trading Volume in Event Pairs
GET
Existing User Rewards
New User Rewards
>200 USDT
>500 USDT
300,000 SHIB
600,000 SHIB
>500 USDT
>1,500 USDT
800,000 SHIB
1,600,000 SHIB
>2,000 USDT
>8,000 USDT
3,600,000 SHIB
7,200,000 SHIB
>5,000 USDT
>30,000 USDT
10,000,000 SHIB
20,000,000 SHIB
>10,000 USDT
>100,000 USDT
22,000,000 SHIB
44,000,000 SHIB
Rules:
All participating users must complete KYC2 (ID verification) during the event period.

New users are those who register after the start of the event.

Deposit amount = The total value of event tokens deposited during the event period. User withdrawals during the event period will affect your eligibility.

Trading volume = The total value of event pairs traded during the event period, includes both the buying and selling amounts.

Market maker accounts will not be eligible to participate in the event.
If there are any malicious cheating behaviors, such as volume swiping or batch registration of small numbers during the activity period, we will strictly review and disqualify them depending on the circumstances.
The rewards will be distributed within 10 working days after the event concludes.
Bitrue reserves the right to the final interpretation of these terms and conditions, including but not limited to modifications, changes, or cancellation of events without notice. Please contact our support team if you have any questions.