Dear Bitruers,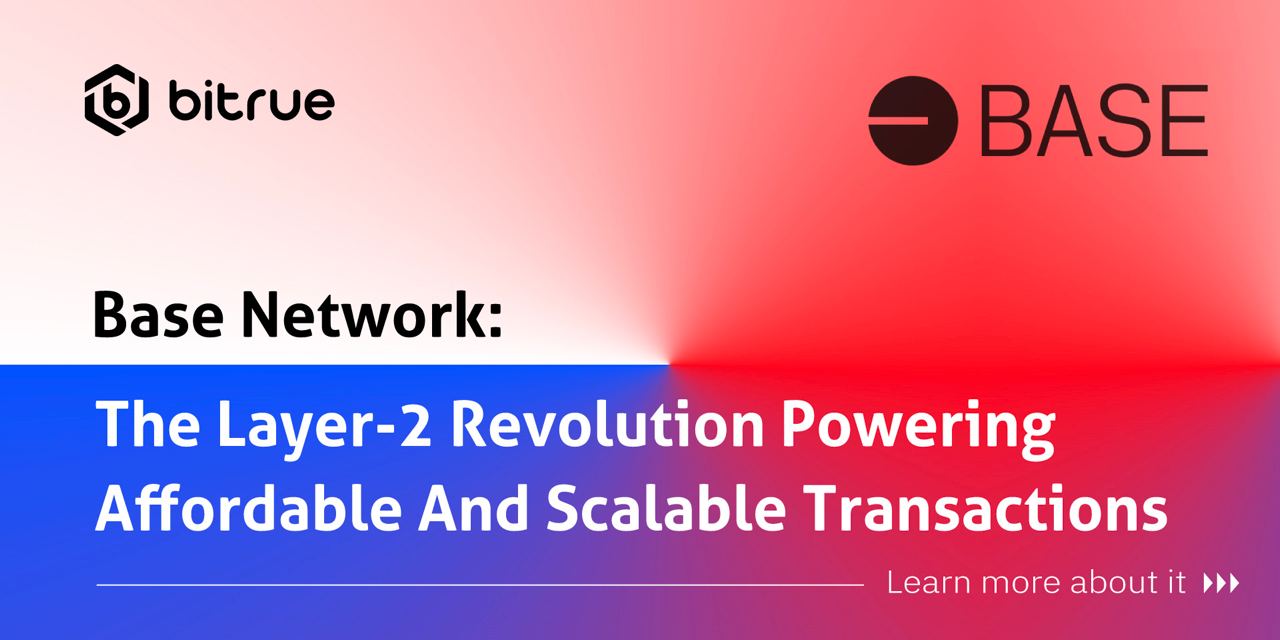 Today, we are excited to share a new article about Base! Be sure to follow Bitrue's Official Twitter and Telegram to stay updated!

Base Network, a revolutionary Ethereum Layer 2 (L2) chain developed in collaboration with Optimism, is poised to reshape the cryptocurrency landscape. In this comprehensive article, we'll dive deep into the groundbreaking features of Base Network, its potential to transform the crypto ecosystem through enhanced scalability and cost-efficient transactions, and its promising path towards decentralization.
Enhancing Scalability with Base Network
In a bid to tackle Ethereum's scalability limitations head-on, Base Network presents a game-changing solution. Operating as an optimistic rollup chain, Base Network processes transactions off the Ethereum mainnet, resulting in unprecedented scalability improvements. This approach holds the key to unlocking the true potential of decentralized applications (dApps) by alleviating the bottlenecks that often plague the Ethereum network.
Unlocking Affordable Transactions on Base Network
A standout feature of Base Network lies in its ability to provide users with affordable transaction options. By reducing reliance on the Ethereum mainnet, Base Network offers a cost-effective alternative for engaging with dApps. This not only promises a better user experience but also paves the way for broader adoption by making cryptocurrency transactions accessible to a wider audience.
The Journey to Decentralization
While Base Network's early stages may involve a centralized approach, the project's long-term vision emphasizes gradual decentralization. A strategic roadmap, including the establishment of a "security council," demonstrates a commitment to democratic governance, reflecting the core principles of blockchain technology.
Benefits for Developers
For developers seeking a robust platform for dApp creation, Base Network offers a wealth of benefits. Its open-source architecture and seamless compatibility with the Ethereum Virtual Machine (EVM) facilitate easy migration and development. Moreover, the network's cost-efficient transactions and streamlined functionality provide a compelling ecosystem, attracting users and fostering dApp adoption.
Potential Token Launch
One of the most intriguing facets of Base Network's evolution is the possibility of a native token launch. While the project team currently maintains no plans to issue a new network token, the project's alignment with Coinbase and Optimism lays a strong foundation for a potential token launch in the future. Such a native token could introduce new use cases, incentivize participation, and contribute to the network's overall growth.
In Conclusion
Base Network's emergence as an Ethereum Layer 2 solution signifies a pivotal milestone in addressing Ethereum's scalability challenges. With the potential to offer enhanced scalability, cost-effective transactions, and a roadmap towards decentralization, Base Network is poised to leave a lasting imprint on the cryptocurrency landscape. As it progresses towards its decentralized vision, the intriguing possibility of a native token launch adds an extra layer of excitement to Base Network's journey, potentially unlocking new avenues for growth, innovation, and ecosystem expansion.
Official Website & Social Media
Website: https://base.org/
Twitter: https://twitter.com/BuildOnBase
Docs: https://docs.base.org/