Dear Bitruers,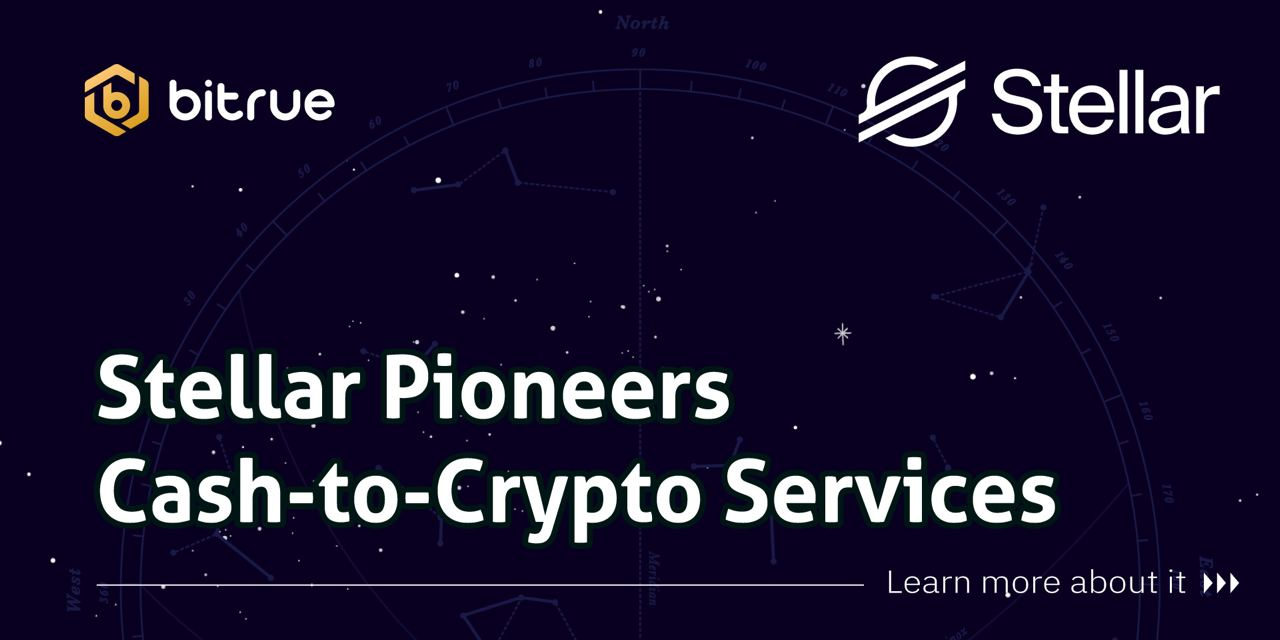 Today, we are excited to share a new article about Stellar. We have also prepared an XLM Flexible Staking (Power Piggy) for New Users at 20% APR! Be sure to follow Bitrue's Official Twitter and Telegram to stay updated!


Stellar Pioneers Cash-to-Crypto Services, Bridging Fiat and Digital Economies
In an era of rapidly evolving financial technologies, the Stellar Development Foundation (SDF) has emerged as a driving force behind interoperability on the Stellar network. Stellar's ability to connect the fiat and digital economies seamlessly has proven to be a game-changer, offering businesses a compelling value proposition. Moreover, Stellar's cash-to-crypto on and off-ramps have opened up new possibilities for users to store and access their value across various financial services. In this article, we delve into the significance of Stellar's cash-to-crypto services and their potential to empower the unbanked and underbanked population.
The Importance of On and Off-Ramps
As digital assets gain popularity, cash-to-crypto on and off-ramps have become vital gateways for individuals in cash-based economies to enter the world of cryptocurrencies. These ramps enable users to convert fiat currency into digital assets and vice versa. For the roughly 2 billion individuals working in the informal economy, traditional financial services are often inaccessible, making cash-to-crypto ramps crucial for their participation in the digital economy. These ramps offer a pathway to peer-to-peer payments, cross-border transactions, and secure storage of value in a globally connected financial system.
Stellar's Pioneering Role in Cash-to-Crypto Accessibility
To gain insights into the current state of cash-to-crypto ramps, the SDF commissioned an extensive research study conducted by The Block. This data-driven research aimed to quantify the level of access to cash-to-crypto ramps across various blockchains and understand the role of these ramps in today's financial landscape.
The results were resounding: Stellar outperformed other blockchains with a staggering 322,000 off-ramps, leaving Bitcoin in a distant second with 98,208 off-ramps. Stellar's success can be attributed to its vast anchor network, which facilitates seamless connections between financial institutions and the digital economy. Notably, MoneyGram International's pioneering MoneyGram Access™ service, operating on Stellar, emerged as the single largest provider of on and off-ramp access.
Addressing Global Disparities
The Block's report also highlighted the disparity in cash-to-crypto ramp accessibility in under-served regions, particularly in Africa, Asia, and South America. Outside of North America and Europe, access to off-ramps is limited, hindering users' ability to convert their digital assets into fiat currency for everyday use.
However, Stellar has proven to be a game-changer in these regions. With an impressive number of on and off-ramps, Stellar's network is actively bridging the gap in Asia, Africa, and South America, empowering users to access their digital assets easily.
Creating a More Connected World
While Stellar has achieved remarkable success, there remains untapped potential for growth. The Stellar Development Foundation remains committed to fostering the growth of its ecosystem, encouraging businesses to leverage the network for innovative financial solutions.
Stellar's extensive on and off-ramp services provide global access to financial services powered by digital assets, offering users in over 180 countries the ability to convert crypto into local currency through MoneyGram Access™ without requiring a traditional bank account or credit card.
Conclusion
The Stellar network's pioneering cash-to-crypto services have established it as a leader in bridging the gap between fiat and digital economies. By providing accessible and user-friendly on and off-ramps, Stellar empowers millions of individuals in cash-based economies to access the world of digital assets. With its ongoing commitment to financial inclusion and technological innovation, Stellar is poised to revolutionize global financial systems, offering a brighter and more connected future for all.
Official Website & Social Media
Website: https://www.stellar.org/
Whitepaper: https://www.stellar.org/papers/stellar-consensus-protocol
Follow Stellar on Twitter
Exclusive Staking Pool for $XLM, Stake NOW!
Trading for $XLM is available at Bitrue!