Dear Bitruers,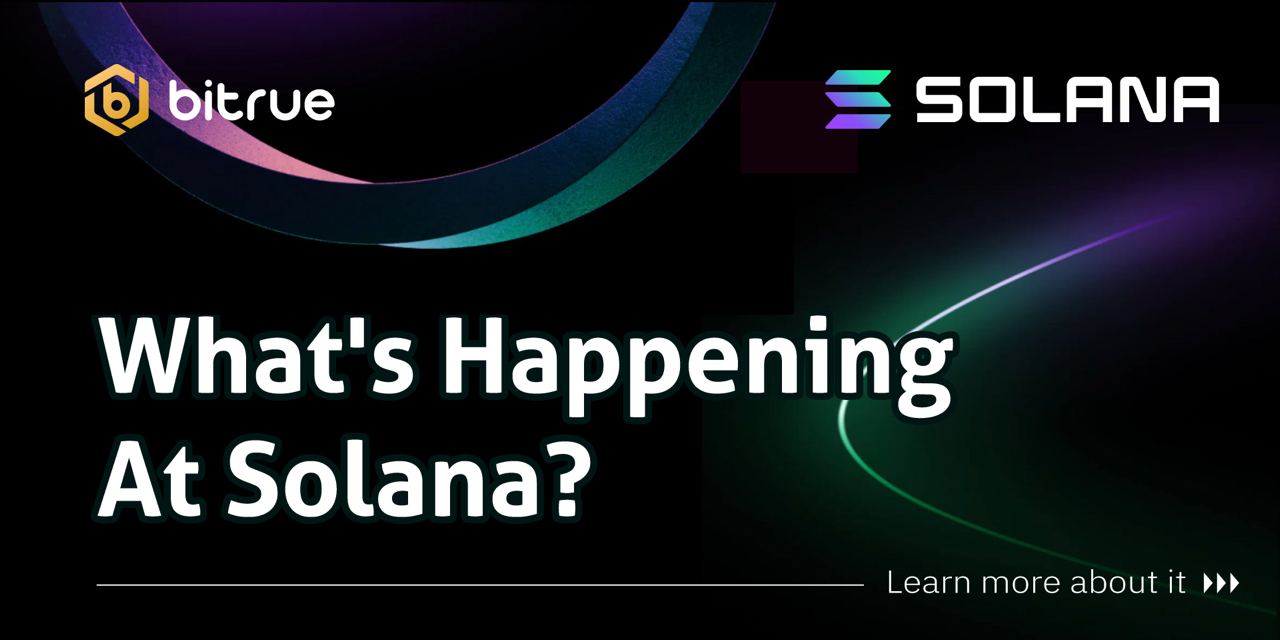 Introduction
The blockchain space has witnessed tremendous growth and innovation over the past few years, with numerous networks vying for dominance in this burgeoning industry. Among them, Solana has emerged as a leading contender, gaining popularity for its high throughput, low transaction fees, and robust ecosystem. As the network continues to evolve, it is essential to understand what's going on with Solana and its recent developments that are shaping its future.
Network Performance
To track the performance of Solana. One of the metrics is their network uptime, which measures the percentage of time the network remains operational in a given month. Over the past six months, Solana's monthly uptime has been quite high, with almost 100% uptime monthly. This consistency indicates a reliable and robust network, building trust among its users.
Another important metric is the network's block time; with a block time of approximately 0.4 seconds, Solana processes transactions at an average of 2,500 transactions per second. This high throughput is through their combination of proof-of-stake (PoS) and proof-of-history (PoH) consensus protocols, allowing for parallelized computation and efficient validation by multiple validators. Another reason for its high transaction speed is through their block size flexibility, which can reach a maximum of 128MB. This combination of fast block time and large block capacity allows Solana to maintain low transaction fees and quick transaction finality.
Recent Network Highlights:
Solana's recent developments have shown through its commitment in optimizing its performance. Network upgrades like QUIC, Stake-Weighted QoS, and localized fee markets are proof that Solana is committed in allowing users to get efficiency and security. Another development milestone is their state compression and compressed NFTs. By reducing the cost of minting NFTs by up to 24,000 times, state compression has unlocked a plethora of new use cases, making blockchain technology more accessible and scalable.
Upcoming Improvement:
Solana is continuously working on several upcoming initiatives to strengthen its network and prepare for the challenges of massive user growth and adoption. One of these improvement is the implementation of "Timely Vote Credits," which aims to reduce block finalization times and disincentivize intentionally delayed voting. By awarding vote credits based on the number of slots voted on and giving more credits for lower latency votes, Solana seeks to improve the efficiency of its consensus mechanism and enhance overall network performance.
Another significant development is the "Firedancer," a new validator client being created by Jump Crypto. Firedancer demonstrated an impressive capability to process 1.2 million transactions per second while maintaining sub-second slot times. This innovation holds tremendous potential for the network, as it significantly boosts scalability and transaction processing speed.
Conclusion:
Solana's remarkable journey in the blockchain space has been characterized by constant evolution and resilience. Its focus on improving its own network showcases the commitment to provide a reliable, efficient, and secure platform for its users. As Solana continues to push boundaries and innovate, its ability to cater to diverse applications and accommodate massive user growth solidifies its position as a leading blockchain network in the industry. With ongoing development aimed at strengthening the network, Solana is providing a scalable and reliable platform for users worldwide.
Official Website & Social Media
Website: https://solana.com/
Whitepaper: https://solana.com/solana-whitepaper.pdf
Follow Tron on Twitter
Exclusive Staking Pool for $SOL, Stake NOW!
Trading for $SOL is available at Bitrue!