Dear Bitruers,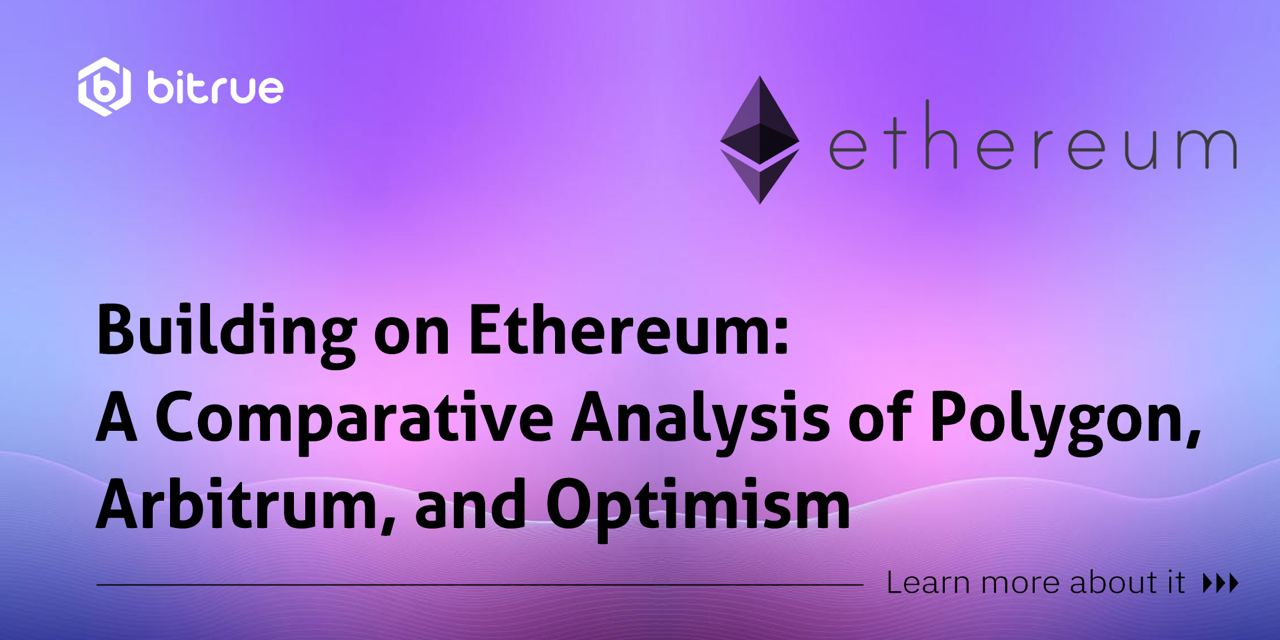 Today, we are excited to share a new article about Ethereum L2 Projects. Furthermore, Bitrue also prepared a Flexible Staking for $ETH $ MATIC $ARB $OP, so be sure to follow Bitrue's Official Twitter and stay tuned!
Introduction
As the popularity of blockchain technology continues to grow, so does the need for scalability and cost-efficiency. Ethereum, the leading smart contract platform, has faced challenges in handling high transaction volumes, resulting in network congestion and soaring gas fees. In response to these issues, Layer 2 (L2) scaling solutions have emerged, providing faster transactions and reduced costs while operating alongside the main Ethereum blockchain. In this article, we will delve into three prominent L2 solutions on Ethereum: Polygon, Arbitrum, and Optimism, exploring their development and potential impact on the blockchain ecosystem.
Polygon: Empowering the "Value Layer of the Internet"
Polygon, formerly known as Matic, has gained significant traction as a Layer 2 scaling solution for Ethereum. By acting as a sidechain, it runs parallel to the main Ethereum blockchain, providing users with faster and cheaper transactions. To utilize Polygon, users can bridge their assets from Ethereum to Polygon and seamlessly interact with various popular crypto applications.
To further enhance its capabilities, Polygon is embarking on an exciting journey with the launch of Polygon 2.0. This upgrade aims to redefine the Polygon Network as the "Value Layer of the Internet." By enabling users to create, exchange, and program value in a decentralized manner, Polygon 2.0 seeks to provide features like digital ownership, decentralized finance, and novel coordination mechanisms. With an emphasis on addressing the scalability and throughput limitations faced by existing blockchains, Polygon 2.0 aims to open doors to the global economy for anyone.
Arbitrum: Optimizing Transaction Costs and Scalability
Arbitrum is another prominent Layer 2 scaling solution for Ethereum, offering fast smart contract transactions while significantly reducing transaction costs. As a key player in the L2 sector, Arbitrum continuously strives for improvement to make transactions even more affordable.
To achieve this goal, Arbitrum is looking to implement the EIP-4844, or Proto-Danksharding update. This update introduces a blob transaction type, or a blob-carrying transaction, that will process separately from other transactions. Consequently, Proto-Danksharding will lead to lower fees for developers using Arbitrum, attracting more users and development teams to the platform. Additionally, Arbitrum is expanding its infrastructure by developing Arbitrum Orbit, a Layer-3 platform that offers flexibility in creating Layer-3 solutions by modifying scalability through Arbitrum Rollup and ensuring security via Arbitrum Anytrust.
Optimism: Bundling Transactions for Cost-Efficiency
Optimism operates as a Layer 2 scaling solution on Ethereum, leveraging the technology of Optimistic rollups. By bundling large amounts of transaction data into digestible batches, Optimism significantly reduces transaction costs, making it increasingly popular alongside other Layer 2 solutions like Arbitrum.
Recently, Optimism successfully completed its Bedrock upgrade, a hard fork that propelled the blockchain closer to its vision of becoming a "Superchain" comprising interoperable mini-blockchains. This upgrade aimed to cut deposit-confirmation times from 10 minutes to 1 minute, reducing gas fees by 40%. Moreover, it improved proof modularity for its OP Stack, an open-source platform for developers to build customizable blockchains with Optimism. With the implementation of Bedrock, Optimism became the first Layer 2 solution to run on a multi-client ecosystem, ensuring increased network resilience by reducing the risk of downtime through the use of alternative client software.
Conclusion: The Evolution of Ethereum's L2 Solutions
As Ethereum strives to overcome its scalability challenges, Layer 2 solutions have emerged as promising answers to achieve faster transactions and lower costs. Among these solutions, Polygon, Arbitrum, and Optimism have all demonstrated their potential to significantly improve the Ethereum ecosystem. Polygon's vision of becoming the "Value Layer of the Internet," Arbitrum's pursuit of reducing transaction costs, and Optimism's unique approach to bundling transactions highlight the diversity of approaches taken to address Ethereum's scalability issues.
The development of Polygon 2.0, Arbitrum Orbit, and Optimism's Bedrock upgrade showcases the relentless efforts of these projects to optimize their capabilities and cater to the demands of a rapidly growing blockchain community. As these L2 solutions continue to evolve, the future of Ethereum looks promising, promising greater scalability, efficiency, and accessibility for users worldwide.
Trading for $ETH is available at Bitrue!
Trading for $MATIC is available at Bitrue!
Trading for $ARB is available at Bitrue!
Trading for $OP is available at Bitrue!