Dear Bitruers,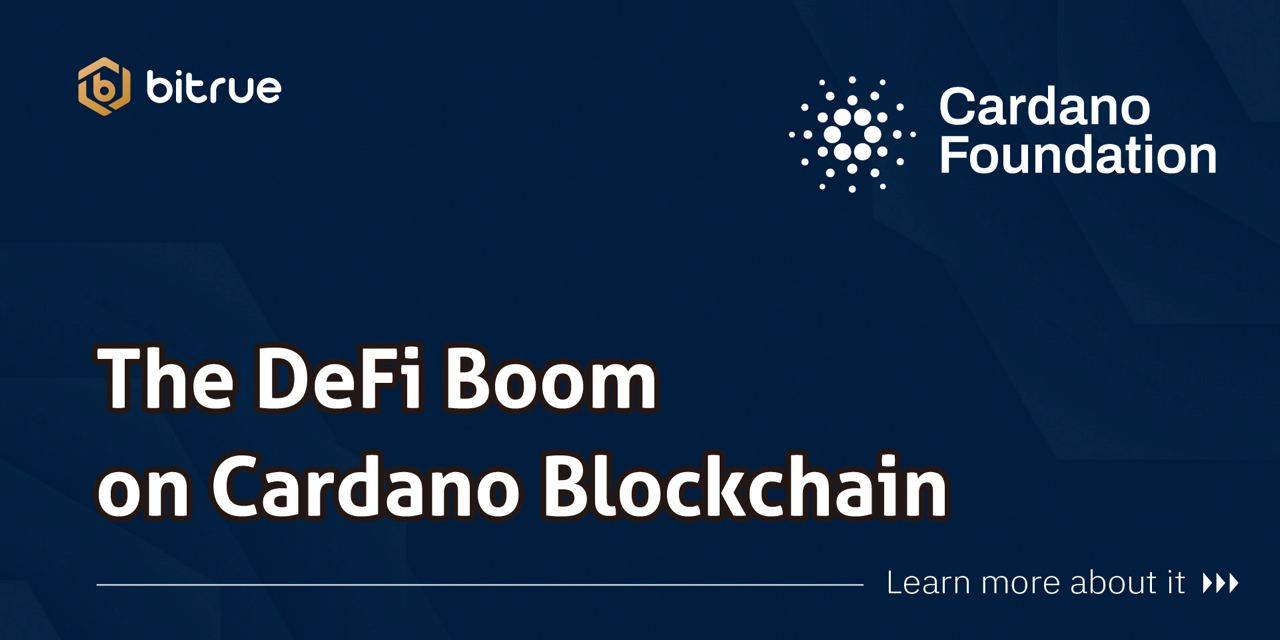 Today, we are excited to share a new article about Cardano $ADA. Furthermore, Bitrue will be launching an exclusive New User Power Piggy (Flexible Staking) for $ADA, so be sure to follow Bitrue's Official Twitter and stay tuned!
Introduction
Cardano, a prominent blockchain platform, has been making waves in the decentralized finance (DeFi) space, experiencing an unprecedented boom. With its TVL (Total Value Locked) reaching a remarkable peak of 597 million ADA (Cardano's native cryptocurrency), Cardano is emerging as a strong contender in the DeFi landscape. Additionally, the ecosystem boasts over 1,000 smart contracts developed on its Plutus V1 platform in 2023, reflecting its continuous growth and potential. In this article, we'll delve into the TVL peak, the burgeoning projects within the ecosystem, and the development progress of Cardano itself.
Cardano's TVL Soars to New Heights
On July 19, 2023, Cardano's decentralized finance ecosystem witnessed a groundbreaking milestone as its TVL surpassed an all-time high of 597.69 million ADA. Although the figure has slightly decreased to 588.83 million ADA at the time of writing, it signifies the remarkable growth of Cardano's DeFi ecosystem.
The TVL growth in terms of the US dollar has been consistently impressive since the beginning of the year. Starting at a mere $50 million in early 2023, it escalated fourfold to $209.16 million in seven months. Although it is still far from the ATH of over $300 million, the upward trajectory reflects the ecosystem's potential.
Dominant DeFi Protocols in Cardano
Among the various DeFi protocols in Cardano, the decentralized exchange (DEX) Minswap has emerged as the largest contributor to the platform's TVL, accounting for $51.07 million. Following closely is Indigo, a non-custodial and decentralized synthetic asset protocol, with a TVL of $38.75 million.
Other protocols like WingRiders DEX, stablecoin Djed, and lending protocol Liqwid occupy significant positions on the list, showcasing the diverse offerings of the Cardano ecosystem.
Smart Contract Development on Cardano
Cardano has shown substantial progress in its smart contract capabilities, particularly on the Plutus V1 platform. In 2023, the platform successfully deployed more than 1,000 smart contracts, indicating a growing activity within the blockchain network.
While Ethereum remains a major player in the smart contract space, Cardano's emergence as an alternative has been influenced by the recent congestion and high gas fees on Ethereum. These factors have led developers and users to explore more cost-effective options like Cardano.
The Underestimated Potential of Cardano
Cardano's TVL growth has outshined many other major blockchain platforms during the bear market. Analysts initially underestimated the potential of the Cardano community and developers' ability to adapt to the eUTXO (Extended Unspent Transaction Output) accounting model, a unique feature of Cardano.
One misconception was that developers needed to learn Haskell, the primary language for smart contract development on Cardano. However, the introduction of new programming languages like Aiken has expanded the development possibilities, making Cardano more accessible and flexible for a broader range of developers.
Looking Ahead
The Cardano ecosystem is still in its early stages of development, and its growth trajectory is encouraging. Analysts believe that over the next year or two, the integration of Hydra and other critical upgrades will take place, further enhancing the platform's capabilities.
As more applications are developed on Cardano and user adoption increases, the TVL is expected to continue its upward trajectory. The focus on security and reliability could also position Cardano as a preferred choice for building applications, especially in sectors like stablecoins, tokenization, and central bank digital currencies (CBDCs).
Conclusion
The DeFi boom in the Cardano blockchain has been nothing short of remarkable, with its TVL reaching new highs and its ecosystem witnessing significant growth. The platform's development efforts, including the introduction of Aiken and the Plutus V1 smart contract platform, have fueled optimism about Cardano's potential as a robust and secure blockchain ecosystem.
While Cardano may not have experienced a bull market yet, its consistent TVL growth and dedicated community are proving the analysts wrong. As the ecosystem continues to mature and attract more users and developers, Cardano could cement its position as a leading player in the DeFi space and beyond.
Official Website & Social Media
Website: https://cardano.org/
Whitepaper: https://docs.cardano.org/introduction/
Follow Cardano on Twitter!
Trading for $ADA is available at Bitrue!