Dear Bitruers,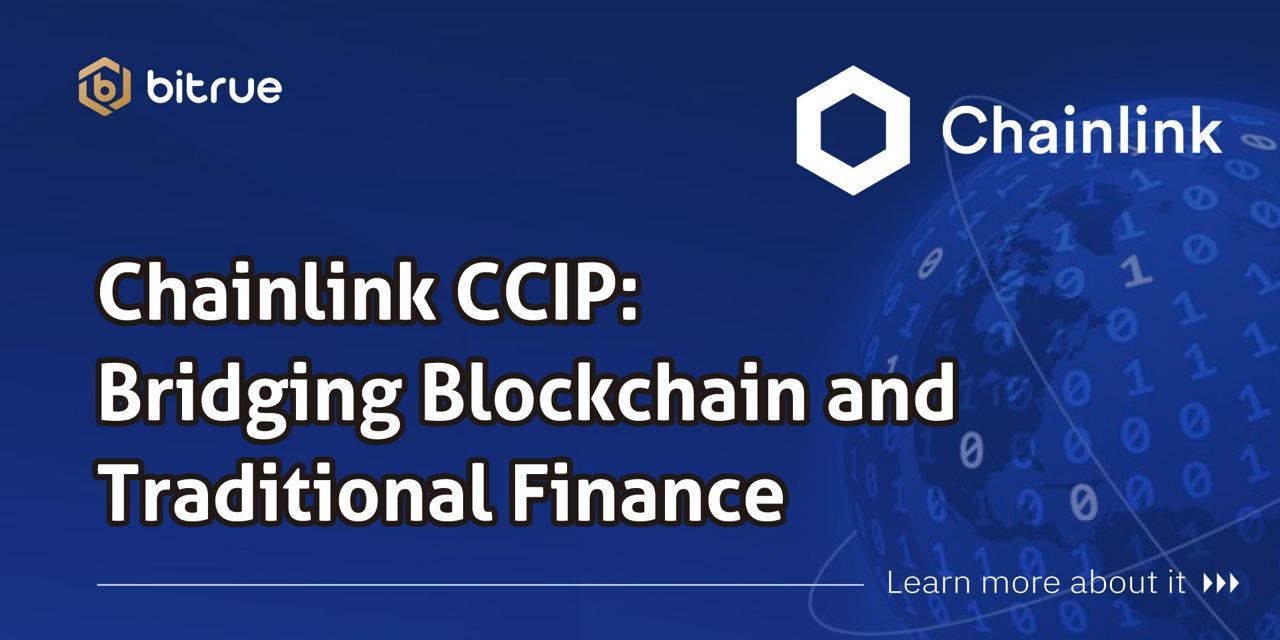 Today, we are excited to share a new article about Chainlink $LINK. Furthermore, Bitrue will be featuring an exclusive New User Power Piggy (Flexible Staking) for LINK, so be sure to check it out!
Chainlink CCIP: Bridging Blockchain and Traditional Finance
In the ever-evolving landscape of blockchain technology and decentralized finance (DeFi), interoperability between various blockchains and traditional financial systems has become a critical challenge. To address this, data oracle provider Chainlink has launched its Cross-Chain Interoperability Protocol (CCIP), aiming to bridge the gap between blockchains and traditional capital markets.
What is Chainlink CCIP?
CCIP, the Cross-Chain Interoperability Protocol, is a groundbreaking solution that seeks to create a standard communication system between different blockchain networks. Just as the TCP/IP protocol facilitated the growth and interconnection of the internet, CCIP aims to do the same in finance. The protocol allows for secure and seamless data and asset transfers across different blockchains, thereby unlocking the potential for cross-chain DeFi applications and enabling traditional finance to integrate with digital assets.
The CCIP has been designed using the same robust security model that powers Chainlink's price oracles. These oracles are known for their resistance to flash-loan attacks and other threats, providing a strong foundation for the protocol's security.
How does Chainlink CCIP work?
Chainlink's CCIP utilizes its extensive network of oracles to facilitate cross-chain communication and asset transfers. It operates through two key components:
1. Oracle Network for Messaging and Value Channeling: One oracle network is responsible for channeling messages and value between different chains. It acts as a bridge, securely transporting information and assets from one blockchain to another.
2. Active Risk Management (ARM) Network: The second oracle network, known as the ARM network, monitors and assesses the risk associated with cross-chain transactions. It quickly identifies potentially malicious activity and automatically pauses services to protect user funds. This risk assessment mechanism resembles how traditional banks detect and prevent fraudulent activities to safeguard their customers.
Connecting Blockchain to Traditional Finance
One of the most significant advantages of CCIP is its ability to link the world of DeFi with traditional financial institutions. Chainlink has partnered with major players in traditional finance, including Swift, BNY Mellon, Citigroup, and BNP Parabens, among others, to create a private-public dynamic that bridges the gap between traditional finance and the cryptocurrency space.
For instance, Swift, an established global banking network, plans to collaborate with multinational banks to bring institutional-grade real-world asset tokens into the DeFi ecosystem using CCIP. This move has the potential to attract trillions of dollars from traditional finance into the blockchain industry.
CCIP will enable banks to access and engage with digital assets in various ways, giving them exposure to the benefits of blockchain technology. The protocol's token transfer capabilities eliminate the need for developers to write customized code for token pool smart contracts, streamlining the process of integrating assets into DeFi applications.
The Promise of Chainlink CCIP
Chainlink's CCIP holds the promise of revolutionizing both the DeFi sector and the traditional finance industry. By facilitating seamless communication between disparate blockchains, CCIP opens up a world of opportunities for DeFi applications to interact with various chains, enhancing liquidity and expanding the ecosystem's overall size.
Moreover, its potential to integrate traditional financial assets into the blockchain space brings new investment avenues and a more diversified collateral pool, further bolstering DeFi's growth and adoption. As blockchain technology continues to mature and bridge the gap with traditional finance, CCIP may indeed become the TCP/IP of finance, uniting a once fragmented global financial system into a cohesive and interconnected network.
With CCIP entering its early access phase and support for various networks like Avalanche, Ethereum, Optimism, and Polygon, Chainlink is spearheading the charge towards a more interconnected and inclusive financial future, unlocking vast opportunities for both investors and the broader global economy.
Official Website & Social Media
Website: https://chain.link/
Contract: https://etherscan.io/token/0xCa14007Eff0dB1f8135f4C25B34De49AB0d42766
Follow Chainlink on Twitter
Exclusive New User Power Piggy (Flexible Staking) for $LINK!
Trading for $LINK is available on Bitrue!