Dear Bitruers,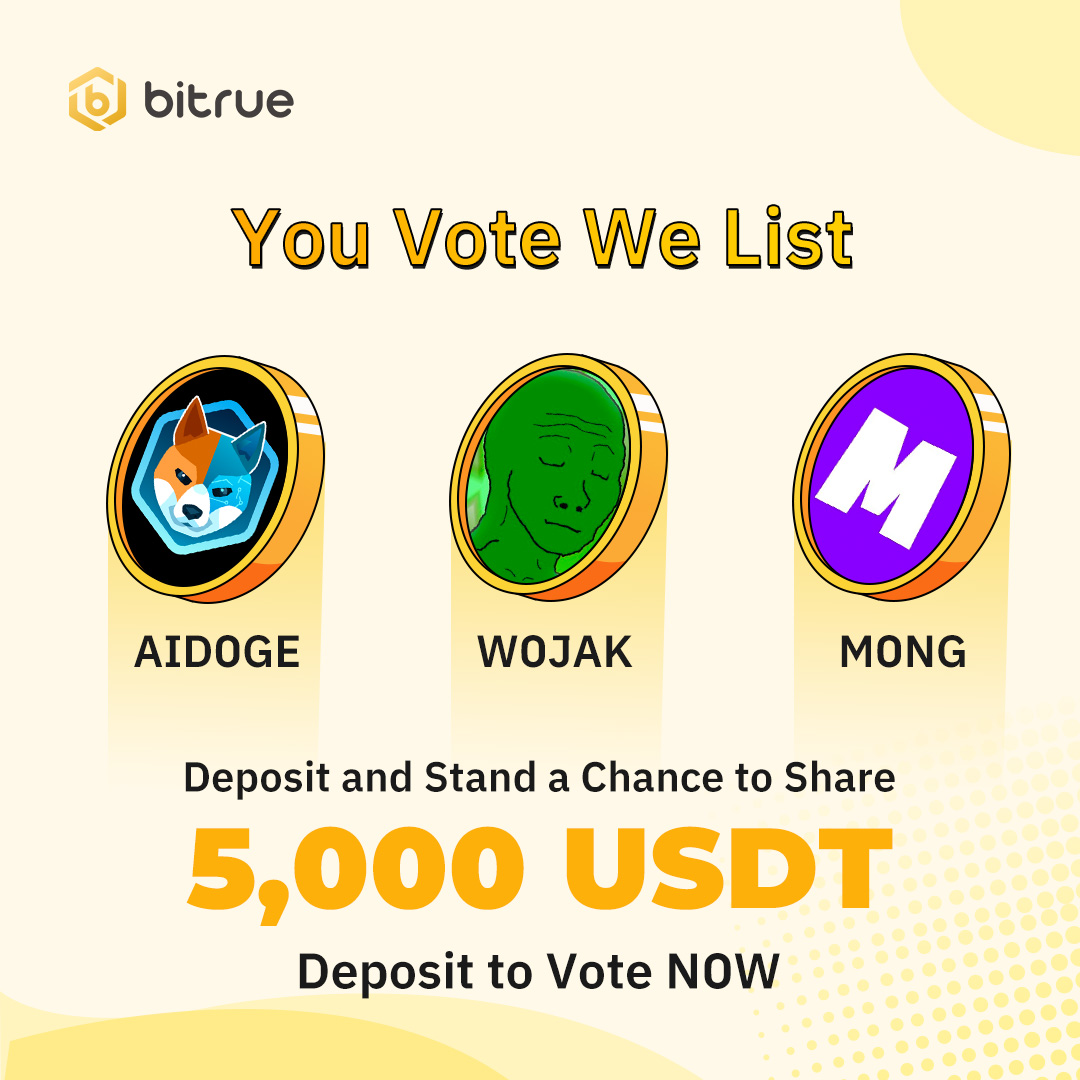 Bitrue will launch a new listing vote at 7:00 on July 6, 2023 (UTC). Deposit tokens to vote for the projects you support and get a chance to share in a prize pool of 5,000 USDT!
Voting Projects: ArbDoge AI (AIDOGE), Wojak (WOJAK) and MongCoin (MONG).
Duration: From 7:00 UTC, July 6, 2023 to 7:00 UTC, July 10, 2023.
Voting Task: Deposit Tokens To Win Votes
During the event, users can deposit the token of their choice to participate in the voting. The token with the highest number of deposits users will be enabled for trading (trading time to be announced). Users who have deposited this token will have a chance to win a share of 5,000 USDT!
Terms and Conditions:
The rewards will be distributed within 10 working days after the event concludes.

During the event period, users can still withdraw; however, please note that the votes won't count if a withdrawal is made before the event concludes.

Bitrue reserves the right to the final interpretation of these terms and conditions, including but not limited to modifications, changes, or cancellation of events without notice. Please contact our support team if you have any questions.
Project Introduction
1. ArbDoge AI (AIDOGE)
ArbDoge AI is not a project but an experiment in the Arbitrum ecosystem. There are no VC institutions or team shares here. All tokens will be distributed fairly and applied to the community, which is just the first step. The creators of the ArbDoge AI protocol are a group of AI organisms who are passionate about Arbitrum. They hope to work with the community to create a strong series of products using AI+Web3. By the way, the survival and development of AIDOGE depend on code, and they love to collect $ARB.
Website | Contract | Twitter |
2. Wojak (WOJAK)
WOJAK is a crypto asset project that aims to create a decentralized platform for connecting people through the power of memes. The project is inspired by the popular internet meme of the same name, which represents a cartoonish face expressing a range of emotions.
Website | Contract | Twitter |
3. MongCoin (MONG)
MongCoin is a meme coin on Ethereum. The MongMob was born out of the incoherent ramblings of a US congressman. Mongs are immortal, surviving both rugs and bear markets. They value friendship, degenerate meme culture, and good vibes. If you align with these values, grab some $MONG and welcome to the mob.
Website | Contract | Twitter |