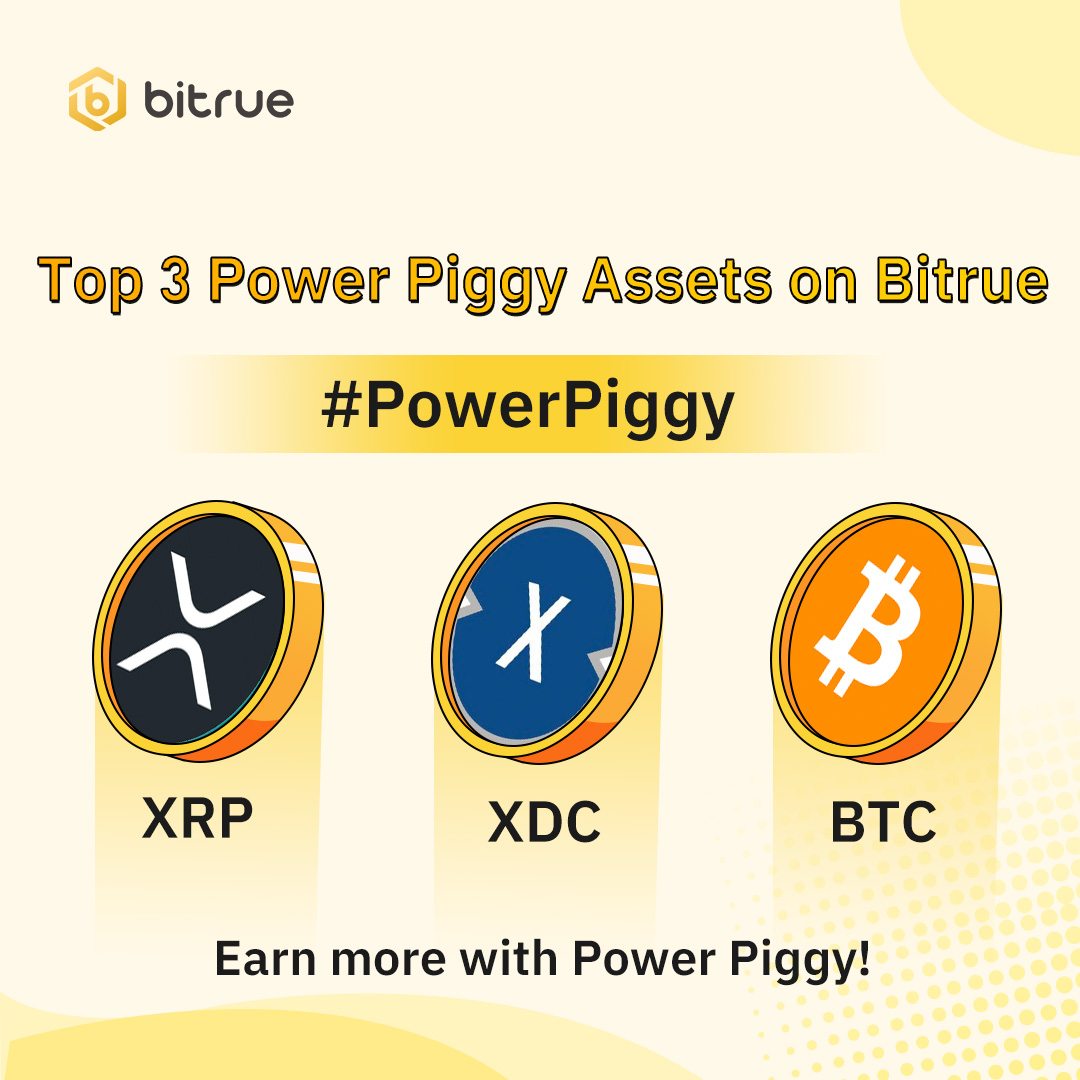 Dear Bitruers, wondering which top 3 Power PIggy assets on Bitrue? We have prepared a highlight for the top 3 Power Piggy assets on Bitrue. Stake now on https://www.bitrue.com/powerpiggy/
XRP utilizes decentralized blockchain technology to facilitate seamless cross-border transactions, connecting financial institutions, payment providers, and banks worldwide. Unlike traditional systems, XRP boasts exceptional speed and settles transactions within seconds, enabling near-instantaneous transfer of funds. Furthermore, it addresses the issue of high fees associated with international money transfers, providing a cost-effective alternative for businesses and individuals.With its deep liquidity and scalability, XRP serves as an efficient bridge currency, facilitating value transfer between different fiat currencies. Through RippleNet, the global payment network built on the Ripple protocol, financial institutions can leverage XRP for faster and more cost-effective cross-border payments. Ripple has established partnerships with major banks and payment providers, promoting widespread adoption of XRP and its integration into the traditional financial system.In terms of regulatory compliance, Ripple and XRP prioritize adherence to local regulations, instilling confidence and trust among users. By leveraging the power of blockchain technology, XRP has the potential to transform the global financial system, making international transactions faster, more affordable, and more accessible.
Uphold, a prominent US-based Web3 financial platform, has launched Uphold Ascent, a customizable over-the-counter (OTC) trading platform tailored for institutional investors focusing on XRP and other assets. With superior liquidity and smart routing capabilities, Uphold Ascent offers extensive insights and optimal trade execution for XRP investors. Additionally, XRP has outperformed Bitcoin in recent weeks, driven by Ripple CEO's confidence in the ongoing legal battle with the US Securities and Exchange Commission (SEC). The market anticipates the release of significant documents related to the case, which could further fuel optimism among XRP investors
The XDC blockchain has emerged as a powerful solution for enterprise blockchain platforms, offering scalability, interoperability, and security for decentralized applications (dApps). With its ability to handle up to 2,000 transactions per second (TPS) using XinFin Delegated Proof-of-Stake (XDPoS) consensus, XDC Blockchain enables high-performance applications like supply chain management and cross-border payments.A standout feature of XDC Blockchain is its robust interoperability, facilitated by the XinFin Hybrid Relay Bridge (XHB). This feature allows seamless integration with other blockchain networks, enabling data and asset transfers across different chains. Enterprises can harness the strengths of multiple networks, fostering collaboration and unlocking new possibilities.The platform supports smart contracts and implements a governance model, ensuring transparency and community participation. By utilizing the Ethereum Virtual Machine (EVM) and supporting Solidity, XDC Blockchain facilitates the migration of Ethereum-based dApps, reducing development overhead and enhancing scalability.Security measures such as cryptographic encryption, decentralized consensus, and selective privacy enhance XDC Blockchain's security and privacy features. Businesses can encrypt sensitive data and execute private transactions while leveraging the benefits of blockchain technology.
Recent news highlights XDC Network's expansion in the Japanese market through a partnership with SBI VC Trade, a cryptocurrency exchange subsidiary. Additionally, the network's potential in trade finance has been recognized by institutions like the International Chamber of Commerce (ICC), the World Trade Organization (WTO), Citi Group, and Trade Finance Global, leading to increased adoption and the tokenization of trade assets.
Bitcoin (BTC) is the pioneering cryptocurrency that has revolutionized the financial landscape. Introduced in 2009 by Satoshi Nakamoto, Bitcoin operates on a decentralized network and utilizes blockchain technology for secure and transparent transactions. With a limited supply of 21 million coins, Bitcoin has become a digital store of value and a catalyst for innovation in the financial industry. Its impact is far-reaching, enabling financial inclusion, facilitating fast cross-border transactions, serving as a store of value, and gaining institutional adoption. As the world embraces digitalization, Bitcoin's decentralized nature, scarcity, and security will continue to shape the future of finance, transforming the way we transact and perceive value in the digital age.
The rise of fungible tokens on the Bitcoin blockchain has led to the development of the BRC-20 token standard, specifically designed for use with Bitcoin. These tokens, known for their interchangeability and equal value, have gained popularity in the cryptocurrency world. The BRC-20 standard enables tokenization and the creation of digital assets, expanding Bitcoin's role beyond a digital currency. It offers compatibility with the Bitcoin network, simplicity of use, and enhanced security due to the robustness of the blockchain. While the BRC-20 standard has advantages such as growth potential and innovation, it also has limitations like the lack of smart contract functionality and limited interoperability. As the blockchain industry evolves and the BRC-20 ecosystem matures, its future remains promising, but caution is advised as the standard is still in an experimental phase. Overall, the BRC-20 token standard contributes to the ongoing development of blockchain-based digital assets within the Bitcoin community.