Hello Bitruers,

We are back with a new event, vote for your favorite Polygon Based Project to be listed on Bitrue!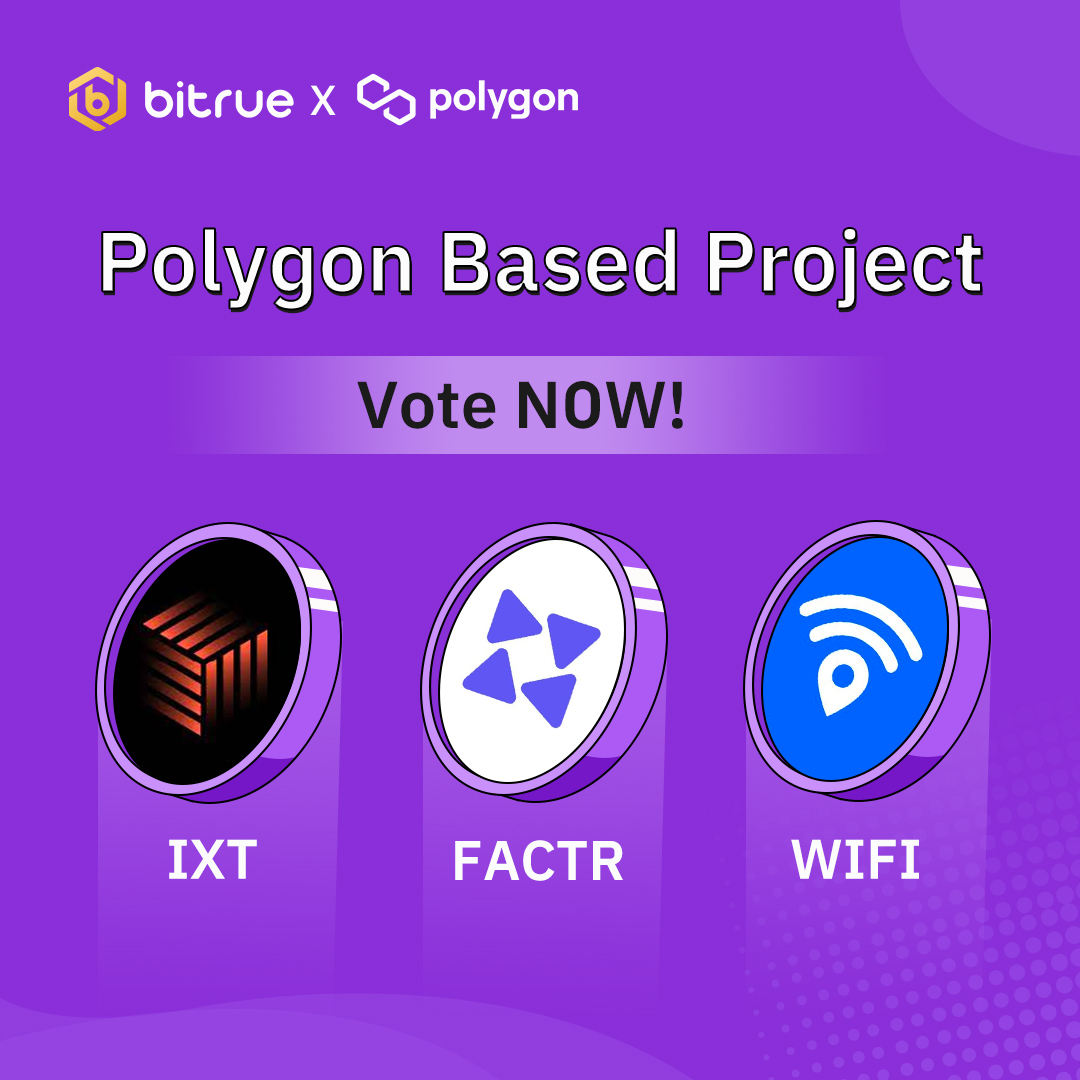 To get you familiar with the projects, we have prepared a short introduction for each project:


Planet IX (IXT)
Product:
Planet IX is a play-to-earn game that allows users to buy land pieces based off the real earth; a copy of earth is divided into 1,684,607,257 hexagons into individual ERC-721 NFT pieces called PIX. Rarity of a PIX is determined on whether it is a Mountain, Countryside, Coastal Line, or Capital City as it progressively becomes more expensive. After owning several adjacent PIXs, players can utilize it and earn IXT.
Player's main mission is to restore the earth to its former glory buy collecting waste in the land they owned or in other players' land. After collecting waste, it can be processed into parts that can later be built into facilities. These facilities will then produce energy; energy can subsequently upgrade the facilities or exchange it with IXT.
Planet IX has received $10m in funding and has a partnership with Polygon Studios
Tokenomics:
IXT token has 153,252,267 maximum supply with 82,192,519 in circulation supply which corresponds to 53.6% of the total supply. Through IXT, token holders can single stake, LP Stake, pool together, Lending & Borrowing, governance and fractionalization to increase their IXT earning
Defactor (FCTR)
Product:
Defactor is a lending and borrowing protocol that aims to solve the liquidity problem in traditional financing by using blockchain technology's transparency and secure nature. Borrowers who require financing will need to go through KYC documentation; they would need to disclose the proof of ownership, use of financing, financing loan and the funding amount needed.
After passing KYC Defactor will tokenize the deal; full KYC documentation will be available for Lendors to fully assess the deal, and Lendors will be given a set of time to invest in USDT to the pool. When the deal closes, Lendors will be issued deal tokens that could be traded in the secondary market before the financing period is over.
Defactor has raised $1.5 million in funds with 21 different investors and is in a partnership with Centrifuge.
Tokenomics:
$FCTR will be used by both Borrowers and Lendors; Borrowers will have some of the pooled liquidity paid out in $FCTR, and they need to pay in $FCTR to access the platform. As for Lendors, $FCTR can be staked and participate in governance.
Wifi Map (WIFI)
Product:
Wifi Map lets its users know where the nearest public Wifi is; Wifi Map started the project for everyone in public to be able to have access to public Wifi anywhere in the world since 2014. Other users can contribute to the ecosystem by adding public Wifi location, verify its networks, and run speed tests. Contributing towards the ecosystem will award users with $WIFI.
Currently, Wifi Map has an eSIM, an offline map of Wifi location, and Built-in VPN. The eSIM is available all across the world with 4G/5G capabilities, and built-in VPN is readily available alongside other features. Eventually, Wifi Map is preparing to become the Web3 Superapp with features such as power bank locator, electric scooters, and rideshares readily accessible within the app.
Tokenomics:
When users contribute to the ecosystem by adding new public Wifi, they will be rewarded with $WIFI; using $WIFI users can buy eSIM and VPN services at a cashback. Furthermore, other users who enjoyed the public Wifi could tip towards the contributor using $WIFI.

So, what are you waiting for? VOTE NOW at *POST LINK*