Dear Bitruers,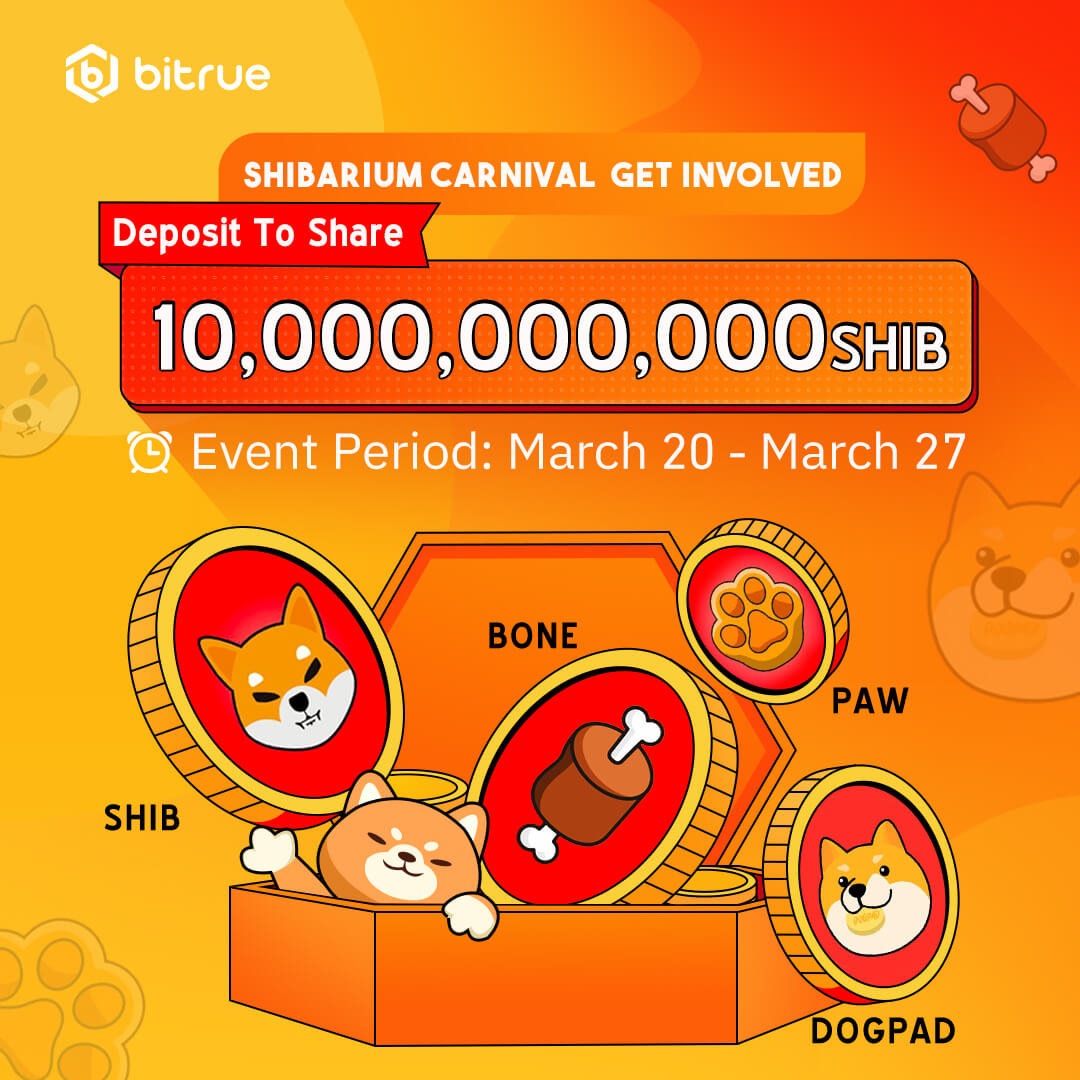 We have launched a deposit campaign for the Shibarium community with a total prize pool of 10,000,000,000 SHIB. Participate in the event and discover the surprises we prepared for you!
Event period: xx:00 (UTC), 16 Mar 2023 - xx:00 (UTC), 23 Mar 2023
Event tokens: SHIB, BONE, PAW, DOGPAD
Event Rules:
Only users who successfully fill out the form are registered for this event. Users who do not fill out the form information are not eligible for the rewards.
Users who complete net deposits of the tokens mentioned above during the event period will share the rewards in SHIB according to different activity rules.
Any user with net deposit and trading that has filled out the form during the event period is eligible for the rewards
[Activity 1]: If you deposit one or more of the event tokens, you will share the 8,000,000,000 SHIB prize pool proportionally according to the amount of your net deposit.
Additional Reward: We will select the first 100 users who have deposited all 4 event tokens to increase an additional 20% of their SHIB reward on top of the rewards they receive from Activity 1. The larger the net deposit amount of the 4 event tokens, the higher the SHIB rewards.
[Activity 2]: During the event period, if you top up and trade one or more of the event tokens, regardless of the amount of deposits and trades, you will have a chance to draw 100,000 - 10,000,000 SHIB. The total prize pool is 2,000,000,000 SHIB. The rewards will be distributed on a first-come, first-served basis.
Terms & Conditions of the Event:
Net deposit = Deposit - Withdrawal. Withdrawing during the event will affect your final reward.
We will take a snapshot of the assets of all participating users at the end of the campaign and use it as the basis for reward distribution.
The rewards will be issued within 7 working days after the end of the event, and we will inform the users when the prize distribution is completed.
Market maker accounts cannot participate in this event.
If there are any malicious cheating behaviors, such as volume swiping or batch registration of small numbers during the activity period, we will strictly review and disqualify them depending on the circumstances;
Bitrue reserves the right of final interpretation of these terms and conditions, including but not limited to modifying, changing, or canceling the activity without prior notice. If you have any questions, please contact our customer service team.